How to Install USI VPN Client
The following instructions are for installing VPN on your home computer. If you have a USI laptop or desktop that you brought home, there are special instructions for installing VPN. Please open a help ticket by sending an email to it@usi.edu and one of our VPN specialists will assist you.
The IT Helpdesk will be available to assist Monday - Friday, 8 am - 7:30 pm.
MAC USERS: You will need to be on OS 10.13 or higher for the VPN to work.



What is VPN?
VPN = Virtual Private Network. When you run the VPN client, it allows your device to connect to USI's internal network from the Internet or campus wireless and appear as though you are here. 
Why would I want VPN?
You can use VPN to access your departmental drives when you are not connected to USI network.
You must have VPN to access Banner from off campus.
What if I already have VPN?
New security measures are changing how you connect with VPN. If you have the "old" client, not AnyConnect, you must upgrade to the new AnyConnect client using the step 1 below. If you have AnyConnect, you will need to let it update.
How do I get VPN?
1. Open a browser and go to https://guard.usi.edu. You will be prompted to login. Enter your username (not email address) and password. The appliance should run through an install or update. You may be prompted about Java issues. Try to "run now/allow/tell me later", if it will let you. If the automatic install fails for any reason (and there are many that will cause it to fail) you should get a prompt to allow a download of the installer. Download and install as you would with any application.
2. Once you have a working AnyConnect client, it opens as a small box in the lower right-hand corner of your Windows screen. (Mac and Linux users – we'll figure it out together if needs be). Initially, the white box for "Connect" will be empty. Complete one setup task before you try to connect.
- Click on the gear icon at the bottom of the box.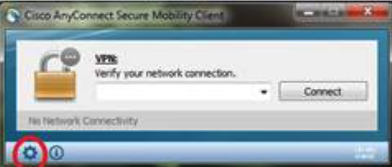 3. Click on "Allow local LAN access…."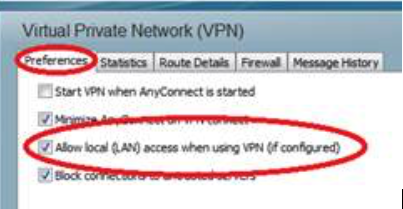 4. Close the box, it saves automatically.
5. In the blank white box, type guard.usi.edu and click "Connect".
6. Choose USI_Employee profile in the drop-down menu. Login with your username (not email address) and password.
Tablets – specifically iPads – and smart phones using a built-in VPN: go to your app store and download Cisco AnyConnect app. You will use "guard.usi.edu" to connect on them as well.