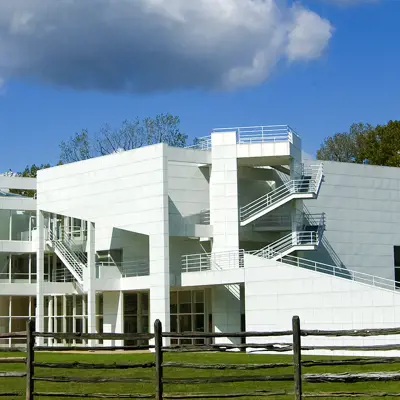 Journey to New Harmony
USI's Historic New Harmony has developed a groundbreaking pilot program for USI freshman class
As if the Fall 2022 Semester wasn't already taking off in full swing, USI's Historic New Harmony has developed a groundbreaking pilot program welcoming the entire USI freshman class to New Harmony, Indiana. The program will transport freshman students to New Harmony, both physically and intellectually, combining campus involvement with community engagement and creating a uniform experience for students to connect the cultural and creative space of Historic New Harmony to their academic disciplines.  
On September 13, the USI freshman class will partake in a two-part program orchestrated by Historic New Harmony staff and volunteers and USI faculty. To start off, students will receive information regarding the basics of New Harmony, significance of its history, public art and architecture. The second part will include students venturing deeper into New Harmony to learn the bigger picture as to why it is an important place in terms of academic disciplines within science and education. Students will take a tour and learn about student and faculty programs that take place in Historic New Harmony. "It's about offering them a way to excel in their education but also for them to get a sense of what New Harmony is all about," says Claire Eagle, Interim Assistant Director for Historic New Harmony. To wrap up the day, USI invites all participants back to The Loft on campus for free pizza. 
Why New Harmony you ask? New Harmony has been a part of USI through its Outreach and Engagement since 1985, utilizing the small, culturally significant town as a "living learning laboratory," says Eagle. USI owns 26 properties in New Harmony. The masterminds behind the development of the new freshmen program will present a space students and faculty can use to stay connected. "There's something neat about New Harmony that's important. It opens the door to extensive amounts of connection opportunities," says Kevin Valadares, Professor of Health Services and Chair of Health Administration. 
Valadares utilized Historic New Harmony as a foundation to get his service-learning opportunity off the ground and running in 2014. He and a team of New Harmony residents worked together to spread information regarding advanced healthcare planning by creating book clubs, training new individuals to be facilitators, and providing families and the community with the necessary resources regarding advanced healthcare planning. To this day, an assisted living facility in New Harmony facilitates advance care planning for its residents, and the College of Nursing and Health Professions received a grant to pay for the implementation of advance care planning into student curriculum. 
Historic New Harmony wants to give the USI freshman class an experience that ignites ideas and guides them in ways that enhance their future careers. "We are trying to figure out better ways to connect students to USI and the community, and this was the way to do it," says Brody Broshears, Assistant Vice President for Academic Success.  
This pilot program has been a truly collaborative effort allowing students and faculty to utilize the resources New Harmony delivers to them as they embark on their academic journeys at USI. 
Find out more about the Historic New Harmony pilot program at https://www.usi.edu/hnhexperience.
 This piece was written by University Strategic Communication Graduate Assistant Shaila Dalrymple.