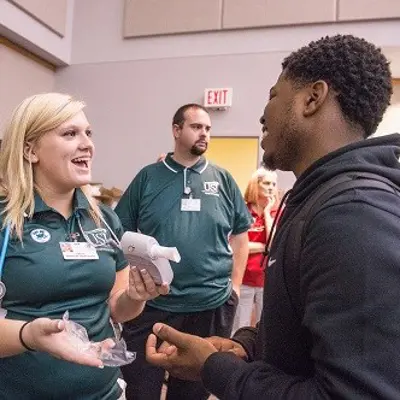 USI annual Wellness Fair set for September 28 in the Screaming Eagles Complex
The annual Wellness Fair is set to return to campus, kicking off at 9 a.m. Wednesday, September 28 on courts A and B in the Screaming Eagles Complex. This event encompasses physical, emotional, financial, intellectual, spiritual and environmental health topics, and USI students, employees and retirees are encouraged to attend.
"We have so many resources in our community and even within USI, so having the fair to showcase these resources is an amazing learning opportunity for our USI family," says Wendy Seitz, Manager of Benefits.
From 9 a.m. to 3 p.m., attendees will be able to visit with more than 40 vendors and gather information on health-related topics. USI Health Professions students and instructors will be available with COVID-19 primary doses, blood pressure evaluations, cholesterol evaluations, respiration evaluations and much more. The University Health Center also will have flu shots at the fair—these shots will be covered for employees on any USI Anthem medical plan. Please bring your USI ID and Anthem medical card to receive the free flu shot. Vision screenings from Harmony Eye Care and hearing screenings from Hearing Works (in room 275 on the second level) will also be a part of the event's offerings. An added bonus will be free gifts and treats, including fresh fruit, plants and other items from vendors.
"One of the biggest parts of wellness is ensuring your body gets the regular exercise it needs," adds Seitz. "We will also have many vendors at the fair to share local options for physical fitness. Participants can also ensure their mental health is taken care of with our mental health vendors."
Other activities to take advantage of during the Wellness Fair include live demonstrations of yoga and Tai Chi by Sift Yoga and Ron Weatherford, showcasing both the mental and physical health benefits of the practices. Public Safety and the Vanderburgh County Sheriff's Office will be in attendance as well to discuss safety.
"It is so exciting to have the Wellness Fair back. Our vendors can't wait to share this vital information," says Seitz. "We are in a new, larger area as well and we feel very lucky to have this new space to keep everyone safe while providing this fun and educational event."
Guests to the fair also will be able to lend a helping "wing" to the USI community by donating needed items to Archie's Food Closet. Staff Council will be set up by the registration table, collecting items currently in need. Most needed items include:
Men's and women's shampoo and conditioner
Instant pasta or rice packets
Soup
Water bottles and condensed milk
Paper towels
Peanut butter and jelly (small containers)
Marinara and alfredo sauces
Canned chicken/tuna or chicken/tuna packets

Other items needed at Archie's Closet are instant potatoes, fruit cups and canned fruit, drink mix packets, Hamburger Helper, grab-and-go snacks, canned vegetables and men's and women's deodorant.
Seitz also encourages attendees to bring their USI Eagle Access Card to register when entering the fair—those who complete the USI Wellness Fair Survey after visiting will be entered for a chance to win one of two Ninja blenders. A link to the survey will be emailed to Wellness Fair participants who complete registration.
"I heard rumors that Archie might make an appearance," adds Seitz. "And thanks to the Recreation, Fitness and Wellness Center, a special bonus yoga class led by Andrew Rodenberg will take place on The Quad at noon."
Volunteers are still needed for various areas of the fair. You can sign up for these spots online. Full Wellness Fair details, along with times of demos, can be found on the fair's website.