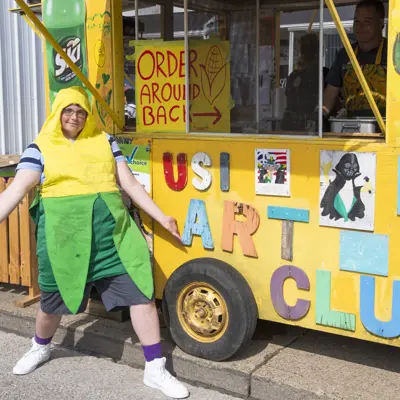 USI takes on Fall Fest, student-athletes to be showcased during annual parade
Fall has returned to the Evansville area, and that means one very exciting event is returning to the West Side—the West Side Nut Club Fall Festival.
From October 3 through October 8, Franklin Street will be lined with more than 137 food booths, rides, entertainment stages and much more. As much as this event is a staple in the Evansville community, it is also a major event for many USI organizations that participate each year to raise funds for their respective groups.
This year, there will be more than 137 food booths on the highly-coveted Munchie Map, including seven from various USI clubs, organizations and fraternities and sororities. Print out your copy, and be sure to highlight the USI booths below to visit on your Franklin Street foodie trek:
Delta Zeta Booth #70: Cake balls, jalapeno poppers, pickles, soft drinks, water
Tau Kappa Epsilon Booth #63: Strombolis, Grippo strombolis
Lambda Chi Alpha Booth #61: Philly cheese steak, Pepsi products
USI Art Club Booth #38: Street corn bowls, soft drinks
USI Varsity Club Booth #107: Ribeye steak sandwich, pork chop sandwich
Alpha Sigma Alpha #104: Oreo cookie balls
Sig Tau Gamma Booth #27: Brownie sundae, cheesecake, ice cream floats, ice cream, puppy chow, barbecue pork sandwich, stromboli, Moonlite burgoo, kid's meal, Capri Sun, soft drinks, water
USI Young Life Booth #77: Cookie dough, Belgian waffle and donut ball sundaes; deep-fried cheesecake, cheesecake bites, caramel apple crisp, ice cream, puppy chow, chicken and waffles, white chicken chili, hog jowls with syrup, gator bites, water

After a three-year hiatus from Fall Fest, the USI Art Club members are excited to return to Franklin Street with their "famous" corn booth. "We are changing things up a little and offering bowls of street corn," says Greg Blair, Assistant Professor of Art and Design and the Faculty Advisor for the Art Club. "Running a food booth at Fall Fest requires a full team effort and helps build a sense of community and ownership within the Art Club."
The booth also is the major yearly fundraiser for the club. "These funds allow us to go on trips to other destinations which serve to enhance the student art education experience, as well as fund all the programming that Art Club does, including workshops, community activities and hosting guest speakers," adds Blair.
President Rochon encourages USI employees to take advantage of an opportunity for a two-hour lunch during the upcoming week of the festival to support the organizations involved. If you are unable or do not wish to attend during lunch hours, you are still welcome to take an extended lunch on campus to visit with friends, relax or enjoy the fall weather.
Also, be sure to head out to the Fall Fest main parade at 4:30 p.m. Saturday, October 8 to cheer on the USI float which always makes an appearance during the parade, held during the closing events of the festival.
This year, our float is celebrating the diverse and growing ranks of our Division I student-athletes. Coaches a part of the crew that evening will be Mike Hillyard (cross country/track and field), Cameron Kainer and Elizabeth Peskin (swimming and diving), Dave Turpin (men's golf), Randa Gatling (women's basketball) and John Spruance (men's basketball).
The float design will feature a half-scale model of the Reflection Lake gazebo, which was built and placed on campus by the West Side Nub Club. You can expect to see other coaches and student-athletes filling the float as well, so be sure to come out and show your support for our Screaming Eagles!
For a complete Fall Fest schedule, visit nutclubfalfestival.com.