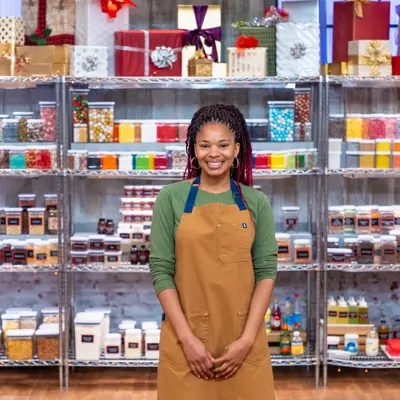 Making the holiday season extra sweet: Neal to appear as contestant on Food Network holiday series
Snow is quietly falling outside. Your space is warm and cozy. Cookies are baking in the oven. All the good things that come with the winter season are here, and you are officially in holiday mode. But what might grow your holiday spirit even more is tuning into Food Network's Holiday Baking Championship: Gingerbread Showdown and seeing one of the University of Southern Indiana's own, Dr. Brandi Neal, Post-Doctoral Fellow in Student Affairs, put her baking skills to the test on the national stage.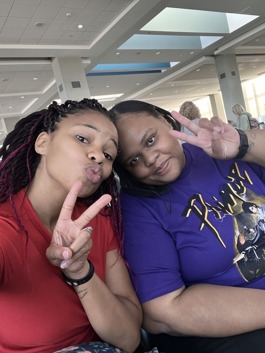 Neal says the interview process was long but certainly worth the work. The episode was shot in September of this year, but before Neal and Hillman could travel to Knoxville, Tennessee, to put their skills to the test, they had to put in work in their kitchens at home. Preparation before filming included creating a callback show piece and Neal having to bake a variety of desserts to show off her range of baking talent. In addition, Neal and Hillman were able to continue work on their show piece five days ahead of the filming date, allotting necessary time to complete additional requirements of the series on filming day. 
This is the second season of Food Network's Holiday Baking Championship: Gingerbread Showdown, and Neal and Hillman are competing on episode four of the seven-episode series. The pair will be up against two other partner teams. In the episode, all three teams will have 10 hours to complete their show pieces, complete with a variety of baked goods, gingerbread and all the holiday spirit possible. Neal and Hillman will be judged as a pair, and the episode will also feature an individual baking portion in which Neal will compete.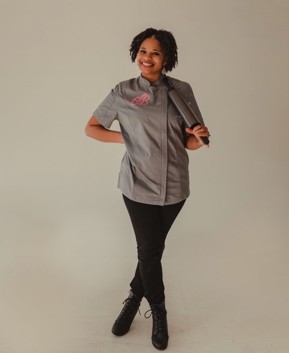 Without giving away any spoilers as to who goes on to win the episode, Neal reflects and says this was one of the most rewarding experiences of her baking career. "I had so much fun on the show," she says. "I met amazing people, from the cast to the producers, to the judges. I was able to showcase my talents and show the world what I love to do." 
Now is the perfect time to enter holiday mode. Watch the snow as it glimmers to the ground. Make your space warm and cozy. And bake some extra cookies to celebrate while you watch Neal's episode on Food Network. Episode four, featuring Neal, will air at 9 p.m. CT November 28 and at 10 a.m. CT December 1 on Food Network. The episode can also be streamed on the Food Network and Discovery+ apps.