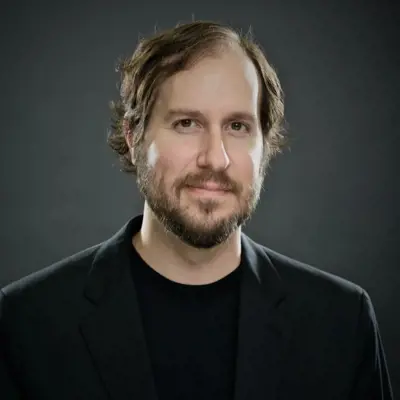 Woodend embraces new role as USI faculty member
When McManus Woodend sent his resume to a casting director for Geico, he proclaimed himself a "Rain Man" of filmmaking. Get him into a conversation about film, TV or storytelling in general, and he proves the description to be quite accurate.
Woodend joined the USI English Department faculty this fall as an Instructor in English, taking on the task of teaching rhetoric and composition. But teaching college-level courses is just the newest step in a career that has been centered around a love for film he's had his entire life.
Woodend firmly puts the blame for that passion on growing up in the 1980s and 90s. "Just living in a Blockbuster, having 700 VHS tapes at home—it was always a fascination to me," he says. "When I was 4, my parents got me a subscription to TV Guide, and I would memorize it every week. They would literally yell from across the house, 'What's on at 8 p.m. on Thursday on NBC?' and me in my little kid voice would yell back, 'Cosby!'"
This early passion never wavered, and his parents did not persuade him away from it, always supporting his aspiration. Despite having a full-ride scholarship to another school, Woodend chose to earn his undergraduate degrees from the Film Production and Entertainment Business programs from Full Sail University in Winter Park, Florida. He would go on to become a filmmaking graduate of the David Lynch Graduate School of Cinematic Arts, a part of the Maharishi International University in Fairfield, Iowa. Currently, he is studying online as a doctorate candidate at The European Graduate School, which has campuses in Switzerland and Malta.
Over the years, he's appeared in six feature films and is the co-creator of the feature-length motion picture "Rocksteppy," which premiered at the Sound Unseen Film and Music Festival and had theatrical premieres in New York and Los Angeles in late 2017. He also directed the short film "Paper" with his wife, Kelli Lynn Woodend, a playwright.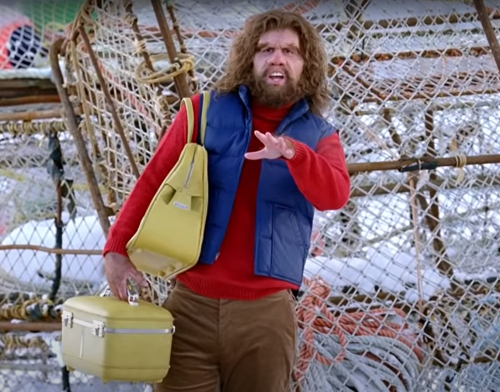 But if you aren't familiar with his film appearances yet find yourself staring at Woodend for a time, wondering why there is something incredibly familiar about him, it's more than likely due to his most well-known credit. In the 2000s, Woodend appeared in GEICO Insurance commercials as the illustrious "Caveman." The fifth actor to wear the moniker, Woodend says he was initially hired to only play the character at live events. It quickly evolved into appearing in commercials, more than 25 in total, as well as voiceovers on the GEICO/Pandora "Caveman Radio" station.
The role remains one of his favorites to this day, especially the commercials he filmed with a crew in Alaska as part of a campaign with the Discovery Channel and its popular show, "The Deadliest Catch."
"It was the craziest trip; it was a week in Alaska, but it felt like two months because it was so intense," he smiles.
A blizzard, an avalanche and cold days turned what was meant to be a casual shoot into an unforgettable time. He also was given the key to the City of Homer, Alaska, while there; a gift obtained when he joked with one of the captains of the crab boats about getting the key from the mayor.
"It was such a fun time," he says of his stint as the Caveman. "It's weird to be this part of pop culture, but not recognizable at all. It was a really fun thing to do, and if asked to do it again, I would in a heartbeat. And it led me to being where I needed to be, which is higher education."
With all the acting and filmmaking credits to his name, why did he make the decision to transition to teaching? Growing up with parents who were teachers exposed Woodend to the effect a good education and caring teachers can have on students; it turns out that is something he also has always wanted to do.
"I've always had people encourage me, even people I've worked with in film and TV who said on set that I should teach," he explains. "So, I've always said I wanted to teach at a collegiate level, because there is something about it."
The self-proclaimed Florida boy found Evansville as many do—he married into it. His wife, Kelli, is a Henderson, Kentucky, native, and in the last year, the couple talked about moving back to her hometown. While in the area, checking out local colleges, Woodend says USI hooked him immediately. "There was just something about driving and parking, then walking around, and the thought in my mind was I could do this for however long the campus wanted to have me."
And teaching feels like a logical step to the actor as, in a way, there are performative aspects to teaching to keep students engaged and connected—it's that connection that excites Woodend about his new position as an instructor. "I've enjoyed getting to know and interact with the students and building on the camaraderie with the faculty members," he says. "I'm teaching all new course material, so those types of stresses and pressures are there, but overall, it's just a great environment. USI is a good balance, and that's something I've always striven for."