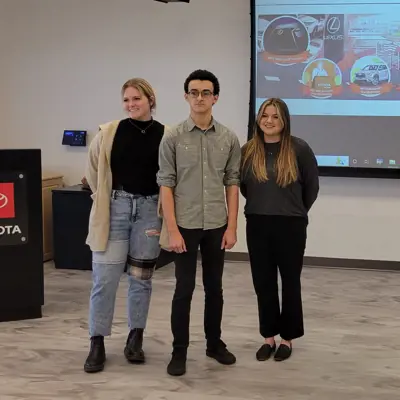 USI artists leave their mark on Toyota factory
Toyota Motor Manufacturing, Indiana, Inc. (TMMI) has been a longtime supporter of the University of Southern Indiana, sponsoring activities on campus, contributing to the USI Foundation and offering internships and co-op opportunities where students can increase their professional skills. One such internship began in the fall of 2021 when Mary Beth Reese, Instructor in Communications, received an inquiry for a special project.
This special project would end up taking nearly a year to complete and required the assistance of multiple USI faculty and students. The ask? Design and produce a 50-foot long by 10-foot high mural to be mounted on the wall of the plant's pedestrian walkway.
"The client requested a mural design that reflected the company's community involvement, plant milestones, vehicles manufactured at the plant and future plant developments with the Lexus line and the vehicle electrification initiative," says Reese.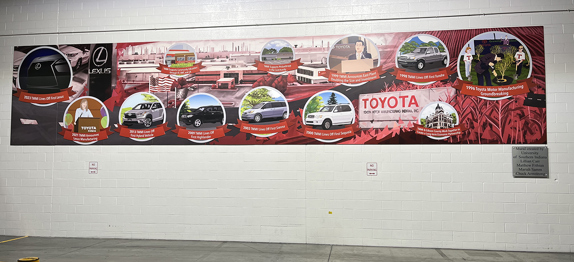 Enlisting the help of Pam Doerter, Career Services and Internships Coordinator, and Chuck Armstrong, Assistant Professor of Graphic Design, Reese set up a meeting with Toyota personnel to work out the details. Many conversations, emails and phone calls later, the design was approved, with final approval including input from the Princeton plant and executives from additional Toyota locations; TMMI  and Toyota Motor North America.
Armstrong was tasked with finding students to bring the piece to life, and Lilian Carr, Mathew Fithian and Mariah Samm were selected to complete the project. After nearly a year of meetings and revisions, and the mural was complete.
"The amount of time and dedication by Chuck Armstrong and the students is commendable," adds Reese. "They worked through revisions, changes by the client, vendor challenges and a much-extended production time."
The team, along with parents of the students, were invited back to the plant in December to enjoy a tour of the facility and receive recognition for their work.
Learn more about internship opportunities available through USI at www.usi.edu/career-services.