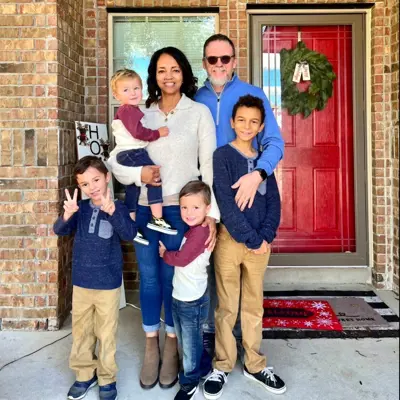 A Path of Persistence
Ruth Wallis' higher education journey comes full circle at USI
Each graduate has a USI journey that is as unique as they are. Ruth (Harris) Wallis is no exception. She started her higher education path in 1984, just as USI was working to establish itself as an independent public University in southwestern Indiana. Now, nearly 40 years after she started, Wallis is completing her degree.
 A native of a small town near Princeton called Patoka, Indiana, she stepped foot on USI's campus for the first time in 1984 when there were only three buildings and a group of faculty, staff and leadership who were dedicated to growing the small University. It was an exciting time, not only for USI (known as Indiana State University-Evansville at the time) but for a small-town Midwest girl like Wallis. Her four years on campus were typical of traditional students today—attending classes, finding friends and building connections as she grew her knowledge. She also worked in the Admissions and Financial Aid offices of the University, experiencing from another view what it was like to be a part of a growing university.
"When I started, it was still just a commuter college trying to turn into a mid-major university. I loved it and was really, really proud of the University," she recalls. "The four years I spent there in the 1980s were incredible. I always had great professors, and I worked for great people in financial aid and admissions. There was just a sense of pride and such a good feeling about the University."
The campus was also a huge part of her growth as a young adult. Not only was she pursuing her career dreams and making connections, she also met her future husband, Ken Wallis. The two were engaged in the fall of 1987, after Ken graduated, then married in 1988 before Wallis completed her degree.
The Wallises moved away from southern Indiana when Ken took a job in Chicago. As time passed, the couple welcomed three sons and her growing family became Wallis' priority—though she never forgot about her degree or USI.
"I always thought I was going to go back and finish. And I did go back for some classes around 1992," she says. "But it just got away from me."
Another 30 years would pass before Wallis sat down and decided it was time to return to USI. In 2021, she discussed the topic with her husband and asked him what he thought of her returning for her degree. He told her to go for it.
The two now live in San Diego, California, and are grandparents and pastors of a local church. But over the years, the want to finish what she started at USI did not go away.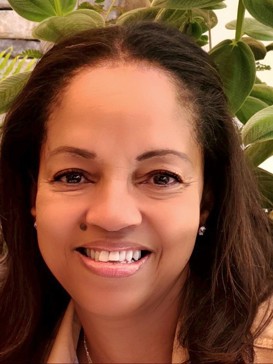 "I thought if there was a way USI could help me to do this, then I'm going to do it. That's what got me started on making calls and planning my return to school," she explains. "And USI did a lot of work; all of my old transcripts had to be found. But I was able to do it."
Once enrolled, Wallis was introduced to Renee Rowland, Director of Advising in the Liberal Arts Advising Center, who helped guide her, provided advice and acted as a sounding board when she had concerns. "She is fantastic. I'm 57, and every crazy question I asked, she was on top of it. She helped me a lot because I had a tricky road."
The first test of Wallis' resolve came early, thanks to a chemistry lab class. "I was out of school all these years and my first class was chemistry. Three days in, I called Renee and told her I couldn't do it, I couldn't. But she talked me down and kept me in that class. Thank God!"
Rowland was not the only instrumental person to Wallis as she navigated her new college courses; faculty have done more than just teach—they have helped her succeed. She rattles off numerous names, including Vandana Keniya, Adjunct Chemistry and Biochemistry instructor, and Tim Mahoney, Adjunct Accounting and Finance Instructor, who have also helped her through. Communication was key, Wallis says, as she was completing her courses online while still living in California. But it didn't present an issue—everyone she interacted with at USI showed her kindness and understanding.
"Even in the discussion boards in my classes, when I introduced myself to fellow students, they were so kind and supportive," she says. "I just had a small sampling of the student population there, but they were so, so kind."
Now, as the 2023 Spring Semester comes to a close and Wallis and other USI students complete their final courses, she will return to campus again, 40 years after she first stepped foot here—and this time she will walk across the stage to accept her degree in political science. She is flying in early to meet with family still living in southern Indiana, including her 88-year-old mother, who will be attending the College of Liberal Arts Commencement Ceremony on May 6. Her whole family is buzzing with excitement, including her four grandsons, who know their Safta ("hip grandma" in Hebrew) is doing something great.
"My three sons are so proud, and even my grandkids are excited. This is a testimony to them," Wallis shares. "While I did this to finish what I started and for myself, I'm glad that I'm able to do it for my kids and my grandkids; so they can see Safta finishing something she started."
Ahead of graduation, it's clear Wallis not only feels excitement, but a massive amount of pride—in herself for her work, but also USI and how far her soon-to-be alma mater has come.
"It's just a sense of finishing. That's what it was for me. A sense that no matter how old you are or whatever your situation is in life, you can finish what you started," she says. "If you have good people around you who can further you along, you will succeed and the people at USI did that for me. It's a really good place to be."
"My experience first at ISUE, and now USI, have just been phenomenal," she adds. "Seeing this become the University it is now and watching it all these years--I'm really proud of this place. And to have the University help me so much, give me the opportunity to finish and just cheering me on, it's been so great."