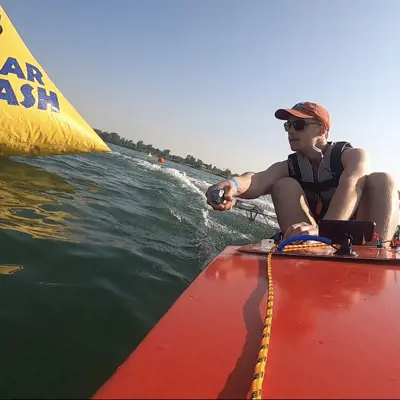 USI students make a splash
Last week, USI's Solar Splash team competed in Solar Splash, the world championship of collegiate solar boating, in Springfield, Ohio, over the course of five days. The team earned points in seven categories including technical reports, visual displays, workmanship, slalom, sprint and endurance. They placed third in the qualifying event and the slalom race, won the design award for Outstanding Hull Design, were named Most Improved Team and placed third overall in the competition. 
The Most Improved title was no surprise as last year, the team took a year off from competition to build a new hull, electronics system and drivetrain for their boat, all from scratch. They made the decision to revamp their designs based on poor results from the past year's competition. This year, with a fresh, reworked design and all new students, the USI team was ready to take on the Solar Splash competition.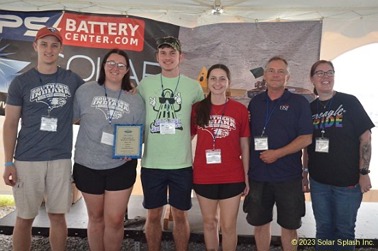 In the past, the team used premade hulls not as suitable for some of the events in the competition. The hull the team designed for this year is lighter and sleeker, allowing them a better chance to place in the sprint and slalom races. "We are certainly learning lots from the teams and judges around us that will help us be even more competitive in future years," says Jacob Mills '25, a mechanical engineering major. "Our newly designed hull is performing admirably in comparison to others in the competition and our drivetrain/electronics are also functioning well." 
The new dual-motor system also improved performance. Both motors run in tandem for the sprint and slalom races, and during the endurance event, one motor runs normally while the other acts as a generator. Rather than choosing between a large, powerful motor or a small, efficient motor, this setup allows the team to experience the benefits of both. The team also converted a used outboard motor into an electric motor using a mounting bracket made from a custom water jet cut. 
With this array of upgrades and the time taken to improve on their designs, the team was hopeful to not only finish a race, but place. "The USI Solar Splash team had a blast at the competition after taking a year off," says Mills about the competition. "We are enjoying the moment but know this is far more meaningful for the longevity of the program at USI." 
Browse a gallery including shots of the team preparing for the competition and day-of photos of the group during the races.