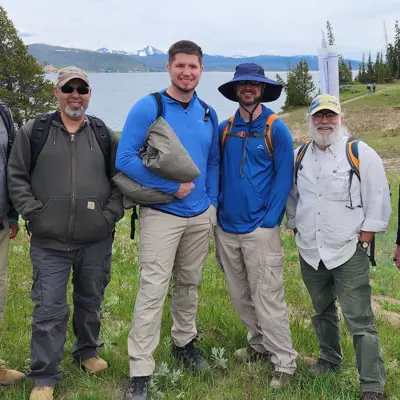 Nature has a healing quality about it. No one knows that better than Dr. Paul Doss, Professor of Geology. This summer has been his second working with the nonprofit, Will's Hope, on the Yellowstone Plateau, located in Wyoming, Idaho and Montana.
Will's Hope is an outdoor educational, growth and self-healing opportunity for U.S. military veterans that uses nature as self-discovery and self-enabling mechanisms. The program is specifically tailored for veterans and is presented commensurate with the abilities of the veterans who participate.
Doss first connected with Will's Hope when he and Mark Squire, Will's Hope Founder, met during one of Doss's field seminars in Yellowstone several years ago. "When he and his wife, Sarah, set up the nonprofit and began taking combat veterans on these experiences, he reached out and asked me to spend a few days with them," he says.
During his time with the veterans, Doss makes sure to immerse them in the wonders of Yellowstone National Park, getting them to explore the beautiful views as well as the interesting and scientific aspects of the park.
This summer, Doss's group included combat veterans who had served in Iraq and Afghanistan suffering from traumatic brain injuries (TBI) and post-traumatic stress disorder (PTSD). These veterans served as combat medics in Special Forces and Warrant Officers, Doss explained, some with nine deployments under their belts.
"This is essentially a nature therapy to help them on their path to peace and healing," he said.