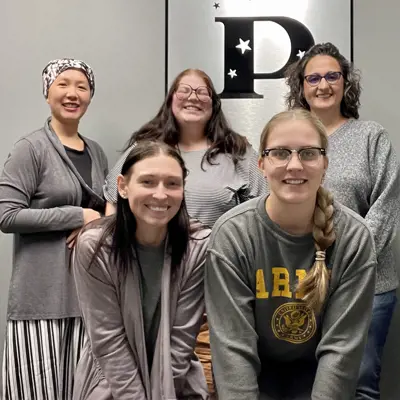 USI partners with Pollux Systems, Inc.
A revenue cycle management company headquartered in Evansville has created a deep-rooted connection with the University of Southern Indiana–particularly the Health Services, Health Administration and Health Informatics and Information Management (HIIM) programs. 
Pollux Systems, Inc., provides billing solutions, credentialing services and claims management for physician practices of all sizes, both regionally and nationally. "Currently, between Pollux Systems and our sister company, Gemini Technology Solutions, we have 12 USI graduates on our teams," says Songa Byrns, Director of Client Relations. "We have found our most successful employees come from USI, and we have hired four recently who started out as student interns here." 
One of those hires is Ashlyn Stacy, '19, MBA '22, Project Manager at Pollux Systems. Stacy earned a bachelor's degree in Health Services from USI and returned for her Master of Business Administration (MBA) degree with a concentration in healthcare administration.  
Three USI grads with Health Informatics and Information Management (HIIM) degrees whose student internships led to full-time positions at Pollux Systems are: 
Shelby Jones '22, AR Management

Jean Harris '22, Credentialing Specialist

Katy Quarcelino '23, Intern/Operations Support
Stacy says Pollux Systems offers internship opportunities for students in a variety of majors in addition to healthcare, including marketing, information technology (IT) and business development. 
Pollux Systems has developed its internship program to provide students with real-world work experience, including shadowing opportunities, education about the revenue cycle and a general overview of medical billing and coding. "We work with the students to meet their educational goals to correlate with what our company is attempting to accomplish," says Byrns, who is also an adjunct instructor for the USI HIIM program. 
Career Services and Internships at the University of Southern Indiana is committed to assisting students with internship opportunities and the transition from college to career. Learn more about career development services, job search strategies, workshops and more by visiting their web page USI.edu/career-services.