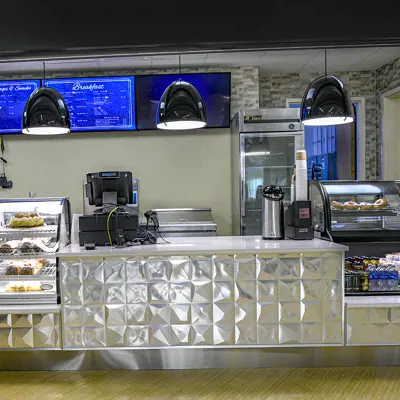 Eagle Bistro unveils full menu
If you've made it up to the second floor of the University Center West, you will have seen the Eagle Bistro in the former location of The Sweet Spot.
The Bistro starts the day with a breakfast menu that has options for anyone looking for a tasty, quick meal. The list includes a farmer's breakfast taco with cage-free eggs, crisp bacon, onion, cilantro and cheddar cheese topped with maple syrup and a balsamic glaze and all wrapped in a flour tortilla. Two varieties of toast are offered—the ricotta and sweet fig toast and avocado chimichurri toast are both served on sourdough bread. An egg and cheese sandwich rounds out the menu.
Other breakfast choices at Eagle Bistro include yogurt parfait, overnight oats in four flavors and four varieties of bagels with various schmears and spreads. The breakfast selection rounds out with a variety of pastry choice.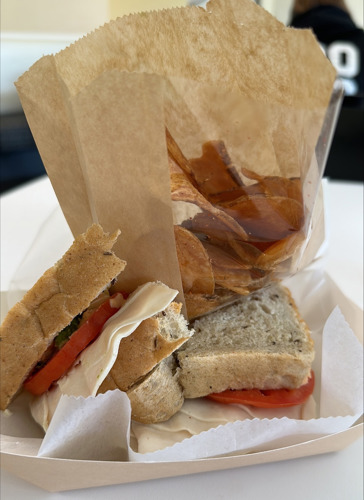 During the lunch hours, guests can choose from delicious sandwiches and wraps. Choices range from an apple, ham and brie grilled cheese to Green Goddess sandwich stacked with fresh mozzarella, lettuce, avocado, cucumber, onions, tomato and Green Goddess mayo. There will also be a hearty soup of the day and a vegetarian soup of the day.
The bakery menu features single-serve items as well as cakes, from cheesecake slices to single sheet cakes sold in quarter, half and full sheets. The Bistro also accepts custom bakery orders.
Guests will also be able to purchase fountain drink, assorted bottled juices, energy drinks, bottled water, whole fruit, chips, coffee, hot tea and hot chocolate.
The Eagle Bistro is open from 7 a.m. to 4:30 p.m. Monday through Friday.
The Eagle Bistro menu
Breakfast:
Farmer's Breakfast Taco: Cage-free eggs, crisp bacon, onion, cilantro, cheddar cheese, maple syrup, balsamic glaze in a flour tortilla.
Ricotta and sweet fig toast: Sliced sourdough toast topped with ricotta cheese, fig spread and toasted hazelnuts.
Avocado chimichurri toast: Sliced sourdough toast topped with avocado, chimichurri sauce, radish and baby arugula.
Egg and cheese sandwich: Fried egg and cheese on choice of bagel, English muffin or croissant. Bacon or sausage may be added for an extra charge.
Yogurt parfait: Tropical fruit and granola
Overnight oats: Available in carrot cake, cranberry fig, matcha almond berry and peaches and cream.
Bagels: Plain, cinnamon raisin, everything seasoning and whole wheat.
Schmears and spreads: Cinnamon brown sugar whipped butter, whipped cream cheese, blueberry or strawberry schmear, honey butter schmear or smoked salmon and caper schmear.
Pastries: Apple Rose, apple streusel coffee cake, chocolate chunk biscotti, cinnamon roll and five flavors of muffins—orange blossom, apple cinnamon, chocolate chip, supreme blueberry crumb and honey bran.
Lunch:
Apple, ham and brie grilled cheese: Smoked ham, apples, honey and brie cheese on golden wheat bread, grilled with thyme-infused butter.
Grilled Rachel with cabbage slaw: Shaved turkey, creamy coleslaw, dill pickets, 1000 Island dressing and Swiss cheese on griddled rye bread.
House-made pickle: Cucumbers pickled with apple cider vinegar, mustard seed, fresh dill and garlic cloves.
Hickory ham and Swiss: A French-inspired baguette layered with hickory smoked ham, Swiss cheese and Dijon mustard.
Crunchy falafel pita: Wheat pita with creamy red pepper hummus, crispy falafels, pickled red onion and cabbage slaw, carrots and lemon tahini.
Green Goddess Sandwich: Fresh mozzarella, lettuce, avocado, cucumber, onions, tomato and Green Goddess mayo on pan bread.
Turkey and avocado sandwich: Perfectly portioned deli turkey and avocado on whole grain bread with chipotle mayo, tomato and Gouda cheese.
Saint Louis chicken club wrap: Grilled chicken, bacon, cheddar, lettuce, tomato, red onion and ranch dressing in a healthy grain tortilla.
Sweet curry chicken salad: Creamy curry ginger chicken salad layered with apricot preserves, baby spinach and tomato on ciabatta.
Hearty and vegetarian soups of the day
Bakery:
Cheesecake slice
Round two-layer cake
Cake slice
Bars
Brownie
Gourmet brownies
Decorated single sheet cake in a quarter, half or full sheet