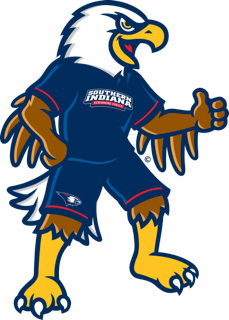 Archibald T. Eagle (T. stands for "The") or "Archie" is the University spirit mark. Permission to use Archie by University departments and student organizations must be obtained from University Marketing and Communications:Please contact Megan Doyle at 812-464-1745 or megan.doyle@usi.edu. 
Standards and Guidelines
Archie is copyrighted and licensed by the University of Southern Indiana. No other poses other than shown are authorized or recognized by the University.


Archie should not be used to promote academic programs, colleges and administrative units. These groups should use the official USI academic logos or sub-brand logos.


Archie is presented as shown on this page. No alterations should be made to the official Archie pose or colors.


Archie should never be combined with other graphic elements or placed within a defining shape to create new artwork. 
Retail Application
Archie is available in the specific poses shown below for use on branded merchandise for promotion or for retail sale. These logos cannot be altered and must include the University name in arching text above the upper body pose and Archie's name included within the artwork on either pose.
To use the mascot on t-shirts or other merchandise items, go to our Licensing and Trademark page for more information.