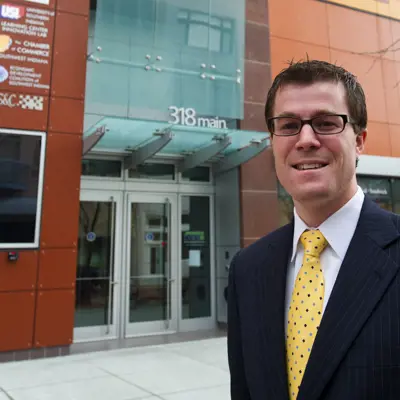 SS&C Technologies' Kyle Fields is USI alumnus in residence
Kyle Fields '06, general manager for the Indiana office of SS&C Technologies, is this year's Alumnus in Residence for the University of Southern Indiana's College of Business. Fields will present "My World and Your World: Combining Technologies and Relationships" at 10 a.m. and again at noon on Monday, February 25, in Carter Hall in the University Center.
Fields' talks will include topics such as leveraging opportunities, networking and building relationships, and the importance of hard work and a competitive resume. He maintains the philosophy that "life is not a spreadsheet."
An Evansville native, Fields graduated from USI with a degree in accounting and professional services and is a certified public accountant. He was named one of Evansville Business Journal's 2011 "20 Under 40", an annual list of 20 emerging leaders under age 40. "Overall, the University and the College of Business were a great experience and gave me a strong foundation for my career," he said.
Fields worked for PricewaterhouseCoopers and Mead Johnson before accepting a position in 2010 at SS&C Technologies, a global investment and financial services provider. He worked out of the company's headquarters in Windsor, Connecticut and New York, New York before he was asked to open an Evansville office in 2011. He manages more than 60 employees at SS&C's downtown office at Innovation Pointe, a business incubator where USI is the educational partner. The company plans to grow the local office to 500 employees by 2014.
The Alumni in Residence program provides valuable insights into the business world and highlights for students the success of a graduate from the University of Southern Indiana.
The program is free and open to the public. Questions about the presentation can be directed to Nancy Bizal by phone at 812/464-1801 or by email at nbizal@usi.edu .