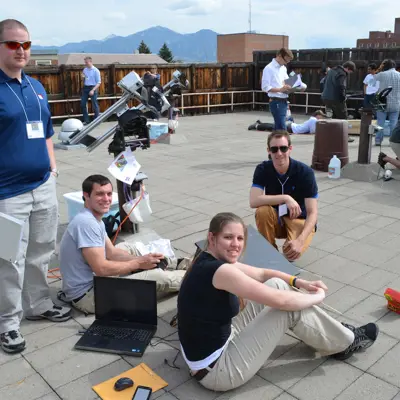 USI students win national NASA award
Nine earn Space Grant Consortia scholarships
Nine students from the University of Southern Indiana's Pott College of Science, Engineering, and Education have been awarded scholarships from two state Space Grant Consortia in recognition of their achievements in STEM (Science, Mathematics, Engineering, and Technology) fields. The National Aeronautics and Space Administration (NASA) initiated the National Space College and Fellowship Program, administered through 52 individual state consortia, in 1989. Each consortium includes colleges, universities, businesses, and other private- and public-sector institutions working to further aerospace education and career training.
National Student Solar Spectrograph Competition
The University of Southern Indiana's spectrograph team, "The Hoosiers", competed against 15 other schools in the National Student Solar Spectrograph Competition at Montana State University this month and won the award for best presentation of results. They were recognized with a $12,000 scholarship from NASA, to be divided among the team's seven members, and a travel award to view a NASA launch at the Kennedy Space Center in Florida.
The competition, put on by the Montana Space Grant Consortium, was held in conjunction with a NASA solar mission scheduled to launch June 26. The competition called for students to design and build optical instruments to answer questions about the sun or other scientific topics.  They were judged in four categories: best science, best build, best design, and best presentation.
USI's team, advised by Dr. Glen Kissel, associate professor of engineering, used their spectrograph to measure the concentration of potassium permanganate in water. Team members competing in Montana were: Aaron Williams, a senior engineering major from Washington, Indiana; Jesse Rhodes, a senior engineering major from Evansville; Danielle Eckert, a senior engineering major from Jeffersonville, Indiana; and Luke Maurer, who graduated in the spring with a Bachelor of Science degree in biochemistry, from Evansville. Team members not in attendance were: Tanner Hayes, a senior engineering major from Evansville; Eric McCord, a sophomore engineering major from Velpen, Indiana; and David Bruce, a sophomore engineering major from Oakland City, Indiana.
Indiana Space Grant Consortium Scholarships
Two students are the recipients of scholarships for 2013-14 from the Indiana Space Grant Consortium.
Sarah Schwartz and Joshua Elpers have each received a $1,500 scholarship. INSGC funds scholarships for students pursuing careers in STEM fields. Recipients are chosen on a competitive basis.
A senior from Corydon, Indiana, Schwartz is a mathematics major. She was selected in 2011 to be a participant in the Pott College's Early Undergraduate Research Program, funded by a grant from the National Science Foundation. Dr. Jeffrey Seyler, professor of chemistry, was her faculty mentor for the program. 
Elpers, a junior engineering major, completed a quality engineering internship at SRG Global last summer. He is from Wadesville, Indiana.