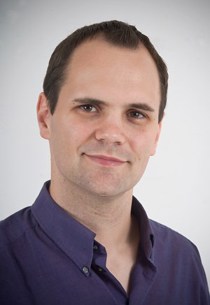 Dr. Garret Merriam, assistant professor of philosophy, is the 2013-14 H. Lee Cooper Core Curriculum Teaching Award winner.  The Cooper Award honors a University of Southern Indiana faculty member whose teaching in University Core Curriculum courses has been especially creative and successful in furthering UCC goals.
Merriam joined USI's College of Liberal Arts in 2008. He holds a Bachelor of Arts degree in philosophy and English from the University of California at Davis, and a Master of Arts degree and a Ph.D. from Rice University in Houston, Texas.
Merriam's desire to teach dates to his first day of college, when he was captivated by his professor's lecture in an introductory philosophy class. "It was both exactly what I was looking for and unlike anything I'd experienced in school before," he said. "There hasn't been any other career that I've seriously entertained since."
Merriam began teaching as an adjunct instructor of philosophy at Houston Community College and Lone Star College (formerly Kingwood College). As a doctoral student at Rice University, he moved on to teach courses in such diverse topics as philosophy of religion, moral and legal issues, ethics, and problems of philosophy. For Merriam, philosophy was a rewarding choice; in his words, "I get to put my students in conversation with some of the greatest minds in history, to challenge them to confront the most vexing problems that we face as a species, as a culture and as individuals, and to push them to come up with their own ways of continuing that conversation and addressing those problems. Who wouldn't want to be a part of that?"
Since joining the faculty at USI, Merriam has served on the Faculty Senate and numerous other University committees and councils, and has advised student clubs including the Philosophy Club, the Vegetarian Club, and the Secular Student Alliance. He has taught many philosophy courses, ranging from introductory-level to advanced, and developed the Department of Philosophy's first online UCC course. Earlier this year, Merriam received the USI Foundation's 2012-13 Outstanding Teaching by New Faculty Award.
In the classroom, Merriam supplements standard lectures and class discussions with one-on-one meetings with students, as well as more creative methods. "I'm a big believer in the use of humor as a didactic tool," he said. "I have used my YouTube channel as well, experimenting with the 'flipped class' method, where the students watch the lecture at home and the in-class time is dedicated to discussion and group work, but I'm still in the early stages of implementing that." Merriam's YouTube channel has over 11,000 subscribers.
In addition to his enthusiasm for teaching and concern for student outcomes, Merriam also derives a personal sense of satisfaction from being an educator. "Teaching is a remarkably 'present' experience," he said. "Whatever else is going on in my life, whatever worries or problems may be weighting on me, they're all set aside when I'm in front of the classroom."
Merriam, in his fifth year of teaching at USI, has taught over 100 students in UCC courses in the B1 Ethics area each semester. In one of several nominations of Merriam for the award, a colleague wrote, "I suspect that few tenure-track or tenured faculty have taught more Core students or classes over the same period. The time and energy that Dr. Merriam puts into his classes and students is truly astonishing. To give that kind of individualized attention to his students is impressive, especially given that he normally teaches well over 100 students each semester. Dr. Merriam regularly receives numerous incredibly positive student comments as well. His teaching evaluations are some of the best I have ever seen."
The Cooper award is named in honor of H. Lee Cooper, a long-time friend and supporter of USI. The award was officially presented at the Fall Faculty and Administrative Staff Meeting on August 20. It includes a generous stipend, a plaque, and additional monies for travel and related faculty development.
As this year's winner, Merriam will deliver a presentation to the University community during the 2013-14 academic year. Details will be released at a later date.