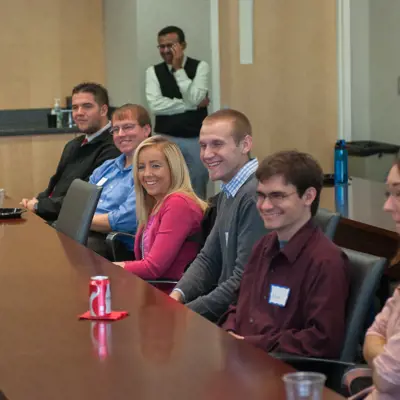 USI economics society welcomes fall 2013 initiates
The University of Southern Indiana's Lambda chapter of Omicron Delta Epsilon welcomed six new members on October 24 in an initiation ceremony in the Romain Board Room of the Business and Engineering Center.
Omicron Delta Epsilon (ODE) is an academic honor society that recognizes scholastic achievement in economics. Undergraduate initiates have completed 12 or more semester hours of economics courses and maintained at least a B average. They all rank in the top third of their class.
The fall 2013 ODE inductees are:
Stevie Lynch, finance and accounting, senior
Alexander Nixon, economics, senior
Timothy O'Brien, economics, junior
Marcus Richards, economics and finance, junior
Almeta Rodgers, economics, finance, and marketing, junior
Andrew Scheirer, economics, junior
Andy Perry, this year's ODE Distinguished Speaker, gave a presentation at the initiation ceremony. Perry graduated from USI in 1999 with a Bachelor of Arts in Economics and in 2008 with a Master of Business Administration. Using his background in purchasing for healthcare systems, Perry co-founded Curvo Labs in February. Curvo Labs aims to reduce the costs of buying and selling medical devices for hospitals, surgery centers, and device manufacturers through an online data platform, where companies can connect and share information. This summer, the start-up was awarded $50,000 from the Indiana Community Development Fund - managed by the Indiana Economic Development Corporation's Elevate Ventures, Inc.
Also in attendance was George Stanley, senior vice president of Morgan Stanley, who was the 2012 Distinguished Speaker.
Omicron Delta Epsilon is an international honor society for economics. Currently, ODE has 678 chapters located in the United States and across the globe. The Lambda chapter at USI was created in 1987. Dr. Marie Bussing-Burks is ODE's USI chapter adviser.