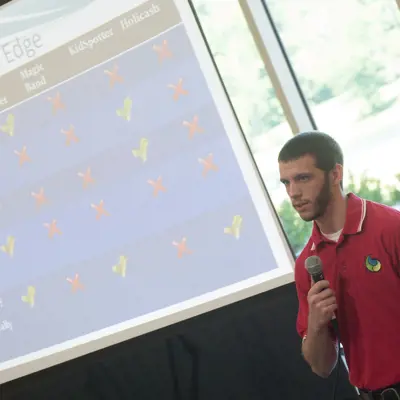 USI minor a finalist for Outstanding Emerging Entrepreneurship Program
The University of Southern Indiana's entrepreneurship minor, offered through the Romain College of Business, has been selected as a finalist for Outstanding Emerging Entrepreneurship Program in the United States Association for Small Business and Entrepreneurship (USASBE) 2014 Entrepreneurship Education Awards.
The three-year-old minor is one of four programs contending for the top spot. Finalists will present at the USASBE Conference in January in Fort Worth, Texas, where the winner will be announced.
"USI's entrepreneurship minor is about connection," said Dr. Kevin Celuch, professor of marketing and Blair Chair of Business Science, who was among the group of faculty in the Romain College of Business who nominated the entrepreneurship minor for the award. Bryan Bourdeau, instructor in business, and Dr. Jack Smothers, assistant professor of management, also contributed to the nomination. "Over the past three years, the program has helped connect university and college visions, the university to the region, students and businesses to technology, and students to students," Celuch said.
Established in 2010, the entrepreneurship minor is open to all undergraduate majors and includes three required classes: Innovation and Ideation, Feasibility Analysis, and Entrepreneurial Strategy. Students also take three additional courses of directed electives associated with their respective colleges and majors.
"Reflective of current entrepreneurial thinking, the minor is designed to be lean and expedited yet high impact in learning," Bourdeau said. "In a recent Booz and Co. research project, 57 percent of respondents reported their company as only marginally effective at idea generation. USI's current program is aimed at addressing this disparity by enhancing and expediting idea generation and conversion."
Many opportunities exist for students to explore entrepreneurship at USI, including participation in the Technology Commercialization Academy, a technology transfer program which allows students to collaborate in developing commercial uses for military patents through a partnership with Crane Naval Surface Warfare Center (NSWC-Crane), and Startup Weekend, an annual event where developers, designers, marketers, product managers, and startup enthusiasts come together to share ideas, form teams, build products, and launch startups.
Entrepreneurship at USI is supported by the e3 mind project, an ongoing Romain College of Business initiative to create and encourage opportunities for students, faculty, staff, and community to engage in entrepreneurial activities.