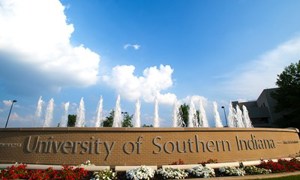 A $3 million grant from Lilly Endowment Inc. will fund six University of Southern Indiana initiatives to expand and enhance career opportunities for USI graduates and retain them in Indiana.  The grant was awarded as part of the Endowment's Initiative to Promote Opportunities Through Educational Collaborations. 
The initiatives USI will undertake include:
The establishment of the Undergraduate Career Readiness Program (UCRP) which will provide formalized career development opportunities for USI students in each year of their college experience.
Expansion of the student co-operative education and internship program to include students in any major at USI and to assist business and industry with funding these co-ops regardless of field.
Enhancement of the Technology Commercialization Academy (TCA), a USI-Naval Surface Warfare Center (NSWC) Crane Partnership initiative which brings together teams of students from varying backgrounds to review and potentially commercialize technologies developed at NSWC Crane.
Creation of Eagle Innovations Accelerator (EIA) to move innovations to commercialization, resulting in job growth/creation and increased economic prosperity.
Implementation of Certificate Programs for graduates and regional workers that address both technical and soft skills as identified in an Endowment-funded study.
Alignment with the I-69 Innovation Corridor Initiative, a USI-led regional effort that includes hundreds of regional partners from Evansville to Crane and is aimed at transforming southwest Indiana into an innovation hub. The goal is to champion an entrepreneurial mindset as well as to attract and retain intellectual capital in the region.
"This grant will allow USI to continue to build upon our efforts to expand opportunities for our students, businesses and partners in the region," said Dr. Ronald Rochon, USI provost. "We're excited about these initiatives and appreciate the Endowment's support in establishing them."
In 2003, the University received a $1 million grant from the Endowment that created scholarships for junior- and senior-level engineering students who sought and accepted co-op positions with Indiana firms; created incentives for Indiana firms to offer co-op opportunities by providing partial-wage subsidies for participating co-op students; and provided a challenge to donors to contribute toward the development of a new $1 million endowment for the engineering program.
For the second phase in 2008, the Endowment awarded USI a $500,000 grant to support curriculum development, career and professional training initiatives, service learning projects, and entrepreneurial projects that promoted collaboration between USI's Romain College of Business and the Department of Engineering within the Pott College of Science, Engineering, and Education.