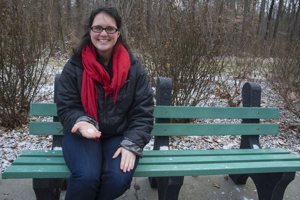 What does one do with 400 pounds of "trash"?  Why, build a bench, of course.  This is just what Dr. Katie Winsett, lecturer in Science, Engineering, and Education, did with her Biology 251 – Environmental Conservation class, in fact, they had two benches made.
Winsett was inspired by an article in the Evansville Courier and Press about a local company called Green Tree Plastics and their "Bench for Caps" program. For $200 and 400 pounds of plastic bottle caps, the company repurposes the plastic leaving their client with a sturdy, 100% recycled plastic lumber bench.  
Although 400 pounds sounded daunting, Winsett leapt in with both feet, confident that her large class of 200 students would complete the mission. The service learning project aligned nicely with the topic of trash. "There's a misconception that many people have – when you throw something away, it's gone. But there is no 'away'" said Winsett. She said the greatest enthusiasm from her class came from ethical consideration and a realization that they were taking something considered merely trash and making it better, opening the door to discuss not just recycling, but upcycling.
The fervor for the project spread as students began enlisting outside help from relatives, friends, and co-workers, educating and creating awareness beyond the classroom. Additionally, the money for the bench was collected almost entirely in coins, another item often considered of lesser value. After many emptied piggy banks, donation jars, and hours spent rolling coins in paper liners, the goal was reached.
"I like the idea of the work at USI expanding into the community," said Winsett. "It's very important to me that students think beyond the end of their own noses." To widen the reach into the community, Winsett chose to have students locate a local non-profit to donate the bench to. The class chose the Dream Center, which works with at-risk youth and their families in the Evansville area.

Winsett laughs recalling her experience loading a University truck with bags and boxes full of bottle caps to deliver to Green Tree Plastics during the rash of bad, icy weather before the holidays. "I got a stomach ache before we went because I was afraid we'd be short." Imagine her surprise when she found out that not only had they met the 400-pound requirement, but hit a grand total of 750 pounds! She quickly put a call out to the Student Government Association at USI and was able to gather another 50 pounds to build a second bench. The second bench has been placed along the USI Burdette Trail, and can be spotted by its brilliant "green for the environment" color and engraving "Environmental Conservation – Fall 2013 – USI Biology."
Winsett has her sights set even higher for upcoming semesters with her Environmental Conservation class. For 1,000 pounds of plastic caps, Green Tree Plastics will create a picnic table. "We did 750 pounds accidentally, I'm thinking let's shoot for the picnic table," she said laughing. "That can just be my role here on campus…lawn furniture." ♦