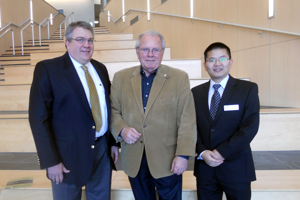 Seven University of Southern Indiana students who were enrolled in a senior applied software development course have completed a project that has helped improve the Freedom Heritage Museum's (FHM) website. Instructed by Dr. Gongjun Yan, assistant professor of computer science, the endeavor stemmed from a strategic planning project completed for FHM through USI's Center for Applied Research and Economic Development (CARED).
Launched in 2012, FHM builds awareness and pride in Evansville's history as the most productive war materials manufacturing city in the world during World War II. Starting as just a dream, the organization is now working to increase funding and publicity for the museum with guidance from a strategic plan that was created by a team of USI public relations students. With faculty oversight by Mary Beth Reese, instructor in communications, fundraising efforts are currently in progress to raise money to turn a 12,000-square foot hangar at Evansville Regional Airport into an interactive, family-oriented World War II exhibit. 
While FHM's original website displayed content, some additional functions were needed to increase museum visitor, donor, and volunteer engagement, and to create more 21st century interactions. Changes to the design of the website included the design of a backend account management system and email database, implementation of administration functions, easier PayPal access for donations, adding current web content, enabling dynamic content, improving web layout, and writing an administrator's manual. 
Mimicking a real work environment, the project challenged students to work together and manage their time effectively, all while creating an interactive and engaging website. 
"During this project, we used the language and tools that are currently used in the industry," said Cortlin Sawyer, a USI senior who served as the front end designer. "A lot of us have used this website to get jobs." 
Students presented their final product to FHM representatives, including John Dunn, treasurer, and Rick Kaskel, vice president. "I was very impressed with the professionalism of the students," said Kaskel. "Their passion, maturity, and wisdom were obvious in their work." In addition, FHM board members expressed interest in hiring some of the students as consultants. 
Other USI students who worked on the project included Rachel Bennett, Chris Howard, Jacob Knight, Weston Nelson, Sami Smith, and Jeff Van Vorst. 
For most of these students, this is the most in-depth and professional project they've worked on, giving them an edge in the development of their career. 
For more information about this and other applied research projects, contact CARED at appliedresearch@usi.edu or 812/228-5108.