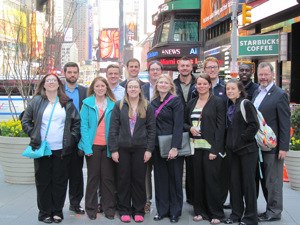 Twelve USI students taking courses in the University of Southern Indiana's Romain College of Business Investment Accounting Track had the unique opportunity to visit the New York office of SS&C Technologies, a global provider of financial services software and software-enabled services. Several SS&C employees provided their perspectives about the operations of hedge funds, private equity funds, third party administration, and the day-to-day responsibilities of SS&C employees. Employees from one of SS&C's hedge fund clients also shared insights about a typical day in the life of someone working for a hedge fund.   
The Investment Accounting Track is the newest of four tracks USI accounting students may choose. It focuses on alternative investments such as hedge funds, private equity funds, venture capital funds, and commodities. The students explore the accounting and compliance issues surrounding these alternative investments, especially in light of recent statutory and regulatory changes brought by the Dodd Frank Wall Street Reform and Consumer Protection Act passed in 2010. This exposure to alternative assets positions students for a wide range of careers in finance or accounting.
Students were accompanied by Dr. Jill Oeding, assistant professor of business law, and Timothy Bryan, instructor in accounting. Oeding, who teaches a course in investment accounting operations, regulations, and compliance, said, "This trip gave us some perspective into the financial world and helped us tie the classroom topics to the real world."
Senior Dora Mills said, "The networking opportunities provided were amazing. I got to meet individuals in a career that I am interested in and ask candid questions."  
The students also took a Wall Street tour of the major financial sites in the Financial District of Manhattan, narrated by an industry insider. The sites included our nation's original capital building, the New York Stock Exchange,  the famous Charging Bull, the Federal Reserve Bank, the 9/11 site, and Trinity Church.
The primary purposes of the trip were to give the students the opportunity to experience one of the largest financial centers of the world and to explore how using their education, initiative, and passion can shape their future careers. "I have learned to not hold myself back from doing what I want to do," said senior Marquis Hunter. Kaitlyn Baker, also a senior, said, "I got to see how what we learn in class is actually applied to real life, and I learned how SS&C works and operates as a company."