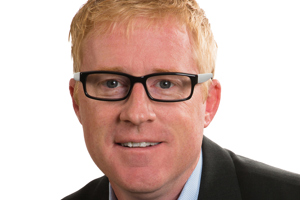 The University of Southern Indiana College of Liberal Arts will hold Commencement at 3 p.m. on Saturday, May 3, in the Physical Activities Center (PAC) on the USI campus. Michael Aakhus, dean of the College of Liberal Arts, and faculty from the College will join members of the USI Board of Trustees, USI President Linda L. M. Bennett, and other officers of the University for the program.
Michael L. Good will deliver the Commencement address to the graduates. He earned his bachelor's degree in communication from USI, and holds a master's degree in business administration from Anderson University.
Good is vice president of strategic accounts and business development for Walker Information in Indianapolis, Indiana, where, over the last seven years, he has focused on strategic customer consulting initiatives with industry leading clients such as Intel, McAfee, ExactTarget, and others. He also is an adjunct professor at Anderson University, teaching both marketing strategies and business plan development in the MBA Program.
Prior to his employment at Walker, Good co-founded TerraGraphiX Inc, a software development firm specializing in commercial real estate and public safety software applications. He was first the COO, then later the CEO. TerraGraphiX Inc. later became TGX Medical Systems, LLC, a software development firm specializing in asset management healthcare solutions. He was CEO and chairman of this venture-backed organization until 2007, and remains a co-owner.
He is the recipient of multiple awards, including the Techpoint Mira Award and the Innovation Award from Indiana University Kelly School of Business. He also was recognized as one of Indy's Best and Brightest in 2010, named Indiana Innovator by the Indianapolis Star in 2005, and nominated for the "Best Chance for Success" award by the Indiana Venture Conference.
Good serves on the board of directors for Connect2Help 2-1-1 (A United Way Agency), Artomobilia, and Colby & Cate's Charities, Inc. He has formally served as vice president and fundraising chairman for the Art with a Heart board of directors. While at USI, he was president of the American Advertising Federation and a member of the Phi Delta Theta fraternity. 
He and his wife, Heather, live in Westfield, Indiana, with their three children. 
Baccalaureate degree candidates from the College of Liberal Arts who are graduating with honors include the following:
Summa cum laude, highest scholarship index of 4.0 (wearing gold cords)
Anderson, Brynn R.
Earley, Cheryl L.
Halber, Dixie L.
Nord, Alison N.
Rakers, Ashley V.
Richard, Jennifer A.
Schu, Samantha K. **
Schum, Colton R.
Weinzapfel, Kristen E.
Magna cum laude, scholarship index of 3.80 or higher (wearing red cords)
Adelman, Anna E.
Bailey, Whitney L.
Barnett, Samuel D. **
Bashore, Regina D.
Blankenberger, Stephanie R.
Burgess, Jonathan D.
Campos, Roberto A. **
Carpenter, Stephanie L.
Faull, Karesse D.
Forshee, Kari B.
Franklin, Tara L.
Hertaus, Bonnie J.
Hoffman, Sydney M.
Howard, Kevin F.
Kaiser, Kelsey L. **
Kraft, Rhonda L.
Martin, Terry L.
Miller, Mary F.
Niehaus, Mallory O.
Pellant, Debra K.
Scheffer, Laura B.
Short, Makaela R.
Siepierski, John W.
Spillman, Susan B.
Stout, Krystin M. **
Wilder, Amy L.
Zambaldi, Alaina M. **
Cum laude, scholarship index between 3.6 and 3.8 (wearing blue cords)
Allen, Dena M.
Bowen, Breanna N.
Carroll, Catherine V.
Collins, Jared A.
Coomes, Megan N.
Corpuz, Jonathan V.
Cruz Velez, Glorisel **
Curry, Devyn E.
Eckert, Jessica A.
Felver, Ambreena K.
Gilley, Kristen M.
Ginder, Kelsey L.
Hawkins, Dionne N.
Hayes, Jason A.
Jorgensen, Ariel E.
Klausing, Christina M.
Latham, Melissa A.
Lingenfelter, Kaelyn S.
Litherland, Jason A.
McNair, Erin E.
Muensterman, Lindsey S.
Murrell, Natalin J.
Myers, Julie A. **
Newton, Alicia T.
Olaughlin, Seth H.
Purk, Christopher E.
Rasure, Adena L.
Riordan, Sierra D.
Rupp, Kayla L.
Ryder, Kameron R.
Schmitt, Amanda M.
Schmitt, Brooke J. **
Sharp, Jennifer M. **
Stephens, Arthur P.
Vincent, Rachael M.
Williams, Ashlee N.
Ziegler, Daniel C.
**Asterisks indicate students who will graduate from USI's Honors Program, a demanding and rewarding program for selected students who take on extra challenges in their course work.
Guests of graduates participating in the College of Liberal Arts ceremony will need tickets. A reception for the graduates and their friends and families will follow the ceremony and will be held in the University Center East.
Three other Colleges at USI will conduct Commencement on Saturday, May 3 according to this schedule:
College of Nursing and Health Professions, 9 a.m.
Pott College of Science, Engineering, and Education, noon
Romain College of Business and Division of Outreach and Engagement, 6 p.m.
A commencement ceremony for graduate students will be held at 6:30 p.m. on Friday, May 2 in the PAC.
Live video of each ceremony will be streamed in University Center East Conference Center (Rooms 2217-2220). The ceremonies also may be viewed online here.