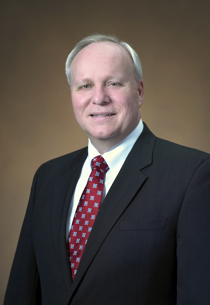 The University of Southern Indiana Romain College of Business and the Division of Outreach and Engagement will hold Commencement at 6 p.m. on Saturday, May 3, in the Physical Activities Center (PAC) on the USI campus. Dr. Mohammed Khayum, dean of the Romain College of Business,Dr. Mark Bernhard, associate provost for Outreach and Engagement, and faculty from both units will join members of the USI Board of Trustees, USI President Linda L. M. Bennett, and other officers of the University for the afternoon program.
Donald R. Breivogel, Jr. will deliver the Commencement address to the graduates. In 2013, he became senior vice president and chief financial officer at Atlas World Group, Incorporated, after serving in the same position at Springleaf Financial for 11 years.
He holds a bachelor's degree in accounting from the University of Southern Indiana and began his career at the accounting firm Gaither Koehler Roffert and Luckett, where he specialized in tax. He moved to Springleaf Financial Services (then American General Financial Services) in 1988 as an accounting manager for credit card operations. In the early 1990s he began working directly for the CFO and was responsible for finance operations in the United States and Puerto Rico. Around 1992, he was promoted to director of financial analysis and was responsible for the forecasting and financial analysis of all legal entities. In 2000, he was promoted to vice president and treasurer and, in 2001, to senior vice president and CFO. 
His responsibilities included corporate accounting, insurance accounting, financial reporting, business analysis, and tax, in addition to treasury and financial analysis. He later added human resources to his responsibilities and headed a staff of more than 200 employees.
In 2012, USI's Romain College of Business and the Accounting Circle presented him with the Distinguished Accountant Award recognizing his professional achievement, service to the region and the University, and service to the accounting profession. At USI he has been a member of the Romain College of Business Board of Advisors, a charter member of the Accounting Circle, and he established a scholarship for accounting students.
He has been a member of the Deaconess Foundation, Association for Financial Professionals, American Institute of Certified Public Accountants, Indiana CPA Society, and the Institute of Management Accountants. He also is a graduate of American Bankers Association's National School of Bank Card Management. 
He and his wife, Susan, reside in Evansville, Indiana, with their three sons, Donnie, Josh, and Adam.
Breivogel will receive the David L. Rice Alumni Achievement Award in recognition of his positive impact in the business world. The award, a crystal soaring eagle representing the University mascot, personifies the vision held by USI's first president,Dr. David L. Rice, of the potential of graduates from the University of Southern Indiana.
Baccalaureate degree candidates from the Romain College of Business who are graduating with honors include the following:
Summa cum laude, highest scholarship index of 4.0 (wearing gold cords)
Krampe, Sarah M. **
Magna cum laude, scholarship index of 3.80 or higher (wearing red cords)
Cope, Stanley A.
Corbin, Kevin B.
Eichmiller, Ryan C.
Hammond, Franklin P.
Kohnen, Julia E.
Lage, Austin A.
Leon, Jessica N.
Lindauer, Adam M.
Maile, Erin L.
Mattingly, Maureen R.
McGuire, Ryan J.
McKinney, Brian S.
Muensterman, Nick A.
Raber, Lauren M.
Randazzo, Gabriela A.
Rohling, John D.
Cum laude, scholarship index between 3.6 and 3.8 (wearing blue cords)
Allen, Harvey D.
Batey, Julia M.
Dillman, Ellen M.
Dippel, Luke T.
Drone, Matt S.
Garrett, Sara E.
Hagan, Lauren E.
Hussein, Shan S.
May, Carly M.
Perkins, Brittany M.
Senff, Kassie R.
Velyako, Velyako
Watson, Jessica L.
Winiger, Beau C.
Woods, Michele N.
**Asterisks indicate students who will graduate from USI's Honors Program, a demanding and rewarding program for selected students who take on extra challenges in their course work.
A reception for the graduates and their friends and families will follow the ceremony and will be held in University Center East.
Three other Colleges at USI will conduct Commencement on Saturday, May 3 according to this schedule:
College of Nursing and Health Professions, 9 a.m.
Pott College of Science, Engineering, and Education, noon
College of Liberal Arts, 3 p.m.
A commencement ceremony for graduate students will be held at 6:30 p.m. on Friday, May 2 in the PAC.
Live video of each ceremony will be streamed in University Center East Conference Center (Rooms 2217-2220). The ceremonies also may be viewed online here.