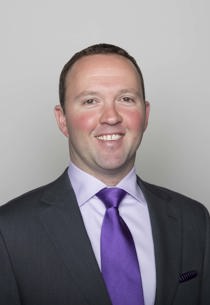 The University of Southern Indiana's College of Liberal Arts will hold Commencement at 9 a.m. on Saturday, May 2, in the Physical Activities Center (PAC) on the USI campus. Michael Aakhus, dean of the College of Liberal Arts, and faculty from the College will join members of the USI Board of Trustees, USI President Linda L. M. Bennett, and other officers of the University for the program.
Bryan R. Harper '96 is the Commencement speaker for the College of Liberal Arts. He earned his bachelor's degree in communications from USI, and is preparing for his 12th season with the National Football League's (NFL) Minnesota Vikings.
Harper began his career in sports at USI, working on the stats crew and in student promotions for men's basketball. After graduation, he spent his first five years in sales roles with the Columbus Crew (Major League Soccer) followed by the Pittsburgh Pirates (Major League Baseball). In 2001, he moved on to the Jacksonville Jaguars (National Football League) followed by the Daytona International Speedway.
Harper returned to the NFL in 2004, taking a marketing role with the Minnesota Vikings, where he initiated a philosophical shift in the organization by bringing many production responsibilities in-house and shaping a cohesive content strategy.
In his role as executive producer, Harper led the creation of Vikings Entertainment Network (VEN) and the launch of one of the first multimedia production studios in the NFL. He assembled a talented team of 14 staffers that are collectively responsible for content strategy, production and presentation across all platforms including in-stadium entertainment, TV/radio programming and digital media. Under Harper's leadership, VEN has been recognized for exemplary efforts in production with multiple Upper Midwest Emmy Awards in categories including graphics animation, commercials, narration and topical documentaries.
Harper's recent contributions to the Vikings organization include providing key input as a Technology Committee member for Minnesota's new stadium (opening 2016), significant influence on the Vikings new uniform project (2013), and leading the Vikings 50th Season Committee (2010). Among his proudest career moments is presenting two Vikings home games in an eight day span, one at Detroit's Ford Field and one at the University of Minnesota, after the Metrodome roof collapse in 2010.
In addition to his role with the Vikings, Harper has served as a postgame ceremony production consultant for the past five Super Bowls, and volunteers with Serving Our Troops, where he traveled overseas to grill made-to-order steaks for soldiers stationed in Iraq and Kuwait.
Harper lives in Minneapolis, Minnesota.
He will receive the David L. Rice Alumni Achievement Award in recognition of his positive impact on the national sports marketing stage. The award, a crystal soaring eagle representing the University mascot, personifies the vision held by USI's first president, Dr. David L. Rice, of the potential of USI graduates.
Also during the College of Liberal Arts ceremony, Kathryn M. Waters, professor of art, will receive the Distinguished Professor Award.
Guests of graduates participating in the College of Liberal Arts ceremony will need tickets. A reception for the graduates and their friends and families will follow the ceremony and will be held in University Center East.
Three other colleges at USI will conduct ceremonies on Saturday, May 2 according to this schedule:
Romain College of Business and Outreach and Engagement, noon
College of Nursing and Health Professions, 3 p.m.
Pott College of Science, Engineering, and Education, 6 p.m.
A commencement ceremony for graduate students will be held at 6:30 p.m. on Friday, May 1 in the PAC.
Live video of each ceremony will be streamed in University Center East Conference Center (Rooms 2217-2220). The ceremonies also may be viewed online here.