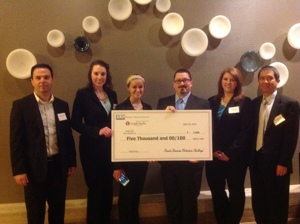 A team of undergraduate students from the University of Southern Indiana's Romain College of Business won first place in the Private Business Valuation Challenge held in Seattle, Washington, April 24-25.
The team included senior finance majors Jesse Montank and Kelsey Fulton and accounting majors Mackenzi Seib, a senior, and Emily Cummings, a junior. Co-coaches were Dr. Khaled Elkhal, associate professor of finance, and Dr. Hinh Khieu, assistant professor of finance.
The challenge, which was open to both undergraduate and graduate students, was a unique opportunity for students to assess the stand-alone value of an actual private company in the road construction business. In the first round, students were challenged to provide an updated equity valuation (one and half years later) on the company, whose value in prior years had been assessed by a professional valuation firm, and submit it via a video presentation. Each video was then evaluated by a team of senior-level valuation professionals who chose the eight best presentations to move on to the second round.
"It was one of the most rewarding experiences I've ever been a part of," said Seib. "This business valuation challenge really bridged the gap between the classroom and real business settings."
The USI team was among eight teams selected to present and defend their final valuations in person in a 40-minute presentation followed by a 15-minute question-and-answer session.
USI's team placed first in the final round and earned the top prize of $5,000. The University of Northern Iowa placed second ($2,500) and Lynn University and Middle Tennessee State University both tied at third place ($1,500). The event was hosted by Seattle Pacific University.
USI's team was one of 24 teams from universities nationwide participating in the challenge, including Purdue University, University of Oregon, University of Tennessee (Knoxville), California State University (Fullerton), Santa Clara University, whose team consisted entirely of MBA students, and Colorado State University among others.
Additional information about the foundation and value of the Private Business Valuation Challenge can be found online.