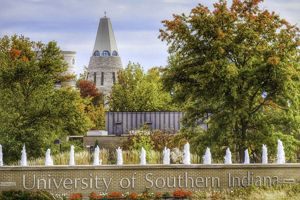 A team of four University of Southern Indiana students from the Romain College of Business and Pott College of Science, Engineering, and Education, recently brought home a first place win from the sixth annual Alberta Energy Challenge (AEC), hosted by the University of Alberta School of Business and the Commerce Energy and Environment Group. The USI team included Connor Curry, accounting; Ryan Elpers, engineering; Alicia Bowling, marketing;  and Casey Montgomery, industrial supervision.
The AEC is an international undergraduate business case competition focused on exploring the opportunities and challenges present in the energy sector. This year's case study dealt with the Alberta Oil Sands, and focused on worker issues, such as capturing and transferring knowledge from an aging workforce.
This is USI's second year competing in the event, and its first time placing. This is also the Romain College of Business' fifth first place win in a case study competition this year.
Dr. Brandon Field, associate professor of engineering and one of the team's coaches, said the collaboration between the Romain College of Business and Pott College of Science, Engineering, and Education gave the students an edge over other teams. "The coach of the second place team told me he could tell the advantage of having engineering students mixed with the business students," Field said. "The keynote speaker at the closing ceremony talked about the importance of interdisciplinary teams in the real world."
The competition also provided students the opportunity to network with industry professionals, as well as other business and engineering students from around the world. Past companies represented at AEC include Shell, Cenovus, Suncor, Junewarren-Nickel's Energy Group, CMA, Canadian Association of Petroleum Producers, and Information Network.