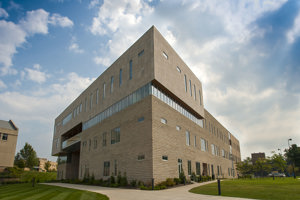 The University of Southern Indiana's Center for Applied Research (CAR) has been selected by the Indiana Economic Development Association (IEDA) to conduct a comprehensive statewide study on tax incremental financing (TIF). Work on the study has already begun and is anticipated to be completed and released in early 2016. The study is to be headed by Dr. Mohammed Khayum, dean of USI's Romain College of Business, Dr. Sudesh Mujumdar, chair of economics and marketing and Dr. Perry Burnett, associate professor of economics.
TIF is a tool used by municipalities to further economic development by making necessary improvements, such as new roads, and providing incentives that attract new businesses and expand existing ones.
"To clear up possible confusion and document best practices, IEDA is funding and directing a fair and non-partisan TIF study," said Lee Lewellen, CEO of the IEDA. "The overall goal and USI focus will be to produce a solid IEDA study that will serve as a valid benchmark and prove useful in the years to come."
Despite the discussion surrounding TIF, the independent analysis will examine positive impacts of Hoosier TIF funding, opportunities for improving the tool, strengths and weaknesses of the tool and best practices in TIF implementation. Upon analyzing this research, recommendations for improving TIF usage and future applications for Indiana cities, towns and counties are to be made.
Khayum, a professor of economics and director of the study, explained how the study should be viewed: "The system-wide effects of tax increment financing and the impact and interactions of key stakeholders must be examined. TIF is a mechanism for debt financing similar to the way most of us manage our own households when making large purchases, but should be looked at as a dynamic ecosystem. While we feel this system can be tweaked, we also want to examine what value it brings to the districts and state as a whole."
TIF is a widely-used tool that has greatly impacted Indiana communities. This study conducted by CAR will provide a clear insight on the actual effectiveness of the TIF tool by putting the top minds of USI's Romain College of Business to work collecting and analyzing state-wide data on the topic. Results from the study will then be of assistance to decision makers on how Indiana tax dollars should be spent regarding the TIF program.
The study is funded through specific contributions to the IEDA Foundation made by over 30 funders including utility companies, various associations, economic development entities, cities, towns and counties.
About CAR – USI' s Center for Applied Research (CAR), a program of Outreach and Engagement, is the front door that connects external entities with University resources. With over 600 faculty, 4 colleges and 80 academic programs at its disposal, CAR connects individuals, organizations and communities throughout the region with the appropriate University resources to enhance products, services and operations.
For more information, contact the Center for Applied Research at 812-461-5442.