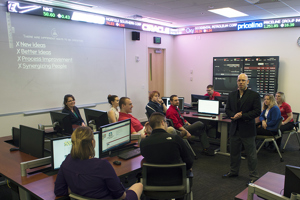 Dr. Jason Fertig, associate professor of management, likens planning his course curriculums to a professional sports season, allowing students to unwind before and after the big game, ahem, test. Hailing from Marlboro, New Jersey, aka the Jersey Shore, this Rutgers University alumnus describes himself as an approachable person who just enjoys conversations and is always up for a good debate.
Fertig has taught at USI since 2009, and is the organizer of the John Maxwell Leadership Boot Camp, a program that teaches business majors to lead by influence. His academic research has covered topics such as the value of certification for human resource practitioners, the purpose of higher education and using the DISC personality profile to enhance teaching. Let's get to know the man behind the management courses.
What inspired you to go into teaching?
I always wanted to help. I've always had the heart of a teacher, which can lead you into the profession, but it also can wash you out. It has a lot of analogies to parenting, because you can't control everything, but you can set people up for success. I enjoy being in front of the room, and adapting to different student populations. There's always a challenge.
What's kept you in this field?
I can carve out my niche, and teach my students something that's important: life skills and big questions about human behavior and life. If I didn't feel like I was delivering something meaningful or helping my students improve, then I wouldn't be able to stay.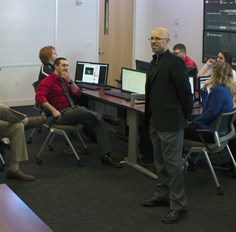 What are some creative approaches you take in teaching?
I find creative approaches in everything I teach. We have fun and use games and activities. Just like our billboard says "It's more than a lecture," – there is value to lecturing, but there is also this idea of "work hard, play hard." I create my class almost like a professional sports season. You have the preseason, the regular season, you have some big games, but you also need the time to decompress. I build down time into my class. You can't have 15 weeks of non-stop content. You have to learn to work with the energy you're given in a classroom. On the first day of class, I'm not going to just throw a PowerPoint up and start teaching class, I want to get to know my students first.
If you could speak to everyone in the world at the same time, what would you say?
Put the phone down. I could speak to them, but if they don't put their phone down, they're not going to hear me. As the phones have gotten more powerful so is the ability to be more distracted. Any conversation is competing with the phone for attention. If you want to captivate an audience that has the ability to get on an i-phone or an Android, you're in trouble.
If you were ruler of your own country what would be the first law you would introduce?
I would probably enact the U.S. Constitution and the subsequent amendments minus the income tax and the direct election of senators. I love the idea of having a society being able to have liberty to do what they please with the assurance that liberty will be protected. If I was ruling a country that's what I'd want. I'd want to keep the people safe, but I'd want to give them the freedom to succeed and fail on their own. It wouldn't be just one law, but everything we enacted and fought for.
If you had a warning label, what would yours say?
"Caution, I actually care and I'm really listening to what you're saying." A lot of people go through the motions, but I never like when people just go through the motions at work or fall in line to bureaucracy. I'm always thinking of better ways to do things.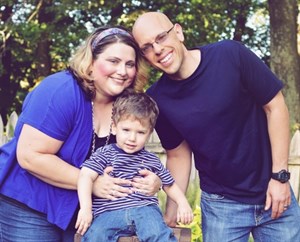 What would you call your autobiography?
The Autobiography of Jason Fertig. It worked for Ben Franklin. It's funny one of the most well-known autobiographies is simply titled The Autobiography of Benjamin Franklin. He didn't call it Flying a Kite or Had a Network with the French.
What is your favorite home cooked meal?
Meat and potatoes, especially pot roast and potatoes, good hearty protein and carbs.
If you could join any past or current music group which would you want to join?
Bon Jovi, a fellow Jersey boy. Those songs never go out of style. All you've got to do is jump and pump your fists, at least with his older stuff, the classics from the 80's.
I like those old hair metal bands like Bon Jovi and Guns N' Roses, but also the old hip-hop like Wu-Tang Clan, Biggie Smalls and Sugarhill Gang. We all say the same thing "I'm going to listen to new music forever," but eventually the new music is just terrible. There must be something in the psychology of music that connects you to a time when you were younger.
What TV show character are you most like?
Probably Seinfeld, just for his offbeat way of looking at things. His humor is the stuff I love, the observational, witty way of looking at life.
What part of pop culture do you wish would just go away?
The political correctness of pop culture is the worst. Everything has to be scrubbed to not offend people. Just because a character says something funny, doesn't mean it was personally directed at you watching the TV in Omaha, Nebraska. Everything's so soft now-a-days. We need the A-Team and 80's and 90's urban hip-hop. If that stuff came out now we'd have groups protesting how hateful and offensive it is. It's a TV show. We're training people to be offended by that. Everything is political now. Get the political correctness out of TV, and just show me a show with good actors. We don't need Darth Vader's view on global warming.