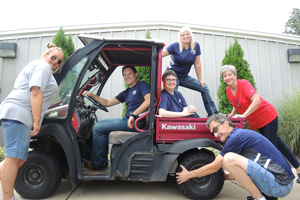 At our annual fall meetings the new Elevating Spirit@USI campaign was announced. We all received our spirit wear and a coupon, good through August, for discounted logo wear at the USI Campus Store. But this is more than a free shirt giveaway, itis about unification and building community.
"Wearing USI logo wear is an outward manifestation of the pride that exists in our University," said Kindra Strupp, associate vice president for Marketing and Communications. "Spirit Fridays are a way to move toward the goal of enhanced reputational awareness and Elevating Spirit@USI and beyond."
Each of us is integral to the success of our University. I've asked numerous members of support staff, faculty and administration during USI Today interviews about what they love most about USI, and have received a common answer, "The people." We value one another. We value our students. We are the heart, the lungs and the mind of the University, and we are strongest when we work together.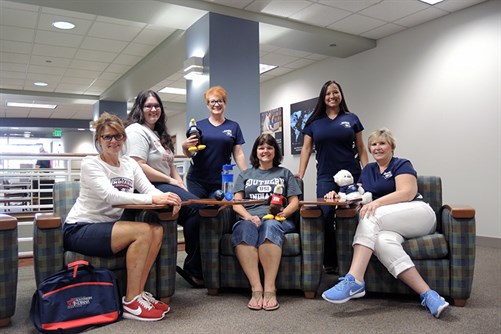 Spirit Fridays are about asking you to change the way you look at Friday from this point forward.  Starting with the new shirt, you are asked to show your University pride and your style each Friday by wearing USI logo wear or the school colors…especially navy and red.  Of course these shirts may not be appropriate attire every Friday, but perhaps consider substituting a University-branded nametag or pin.  It is a visible symbol of our unification and devotion to one another and to the University.
You received an instruction card in the bag with your free shirt to "Wear boldly and handle with pride." The rest is up to you.
In the coming weeks and months we'll be talking more about how we all can Elevate Spirit@USI. Stay tuned.
See more photos of employees displaying their USI pride last Friday.