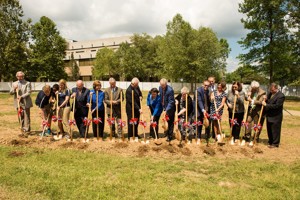 At its regular meeting on September 1, the University of Southern Indiana Board of Trustees reviewed and approved the 2017-19 Operating and Capital Improvement Budget Request that will be submitted to the Indiana Commission for Higher Education (ICHE).
The operating budget was developed using the performance funding metrics created by the ICHE. The trustees learned that USI is eligible to receive funding for increases in overall degree completion, at-risk degree completion, student persistence and on-time graduation rates. If the metrics are funded at the levels recommended by ICHE, the University would receive nearly $2.9 million for improved performance.
In its 2017-19 Capital Improvement Budget Request, USI seeks bonding authorization for one capital project. The proposed project is $41 million for phase II classroom expansion and renovation of the Physical Activities Center (PAC), and the construction of a permanent facility for the University's Public Safety Department. The phase II PAC expansion and renovation will include additional instructional space for high-demand academic programs, enhancing the facility's technological capabilities, providing administrative space for faculty and staff, and the relocation of the pool. The capital improvement budget also includes more than $3.7 million for general repair and rehabilitation for the biennium.
The budget includes a request for funding for the continued operation of Historic New Harmony, campus security enhancements, and the expansion of Science, Technology, Engineering and Mathematics programming and dual credit opportunities.
In other business, the trustees approved housing and meal plan rates for the 2017-2018 academic year and received an update on campus construction projects.
FUQUAY WELCOME CENTER
Following the board meeting, trustees, guests, and members of the community attended a groundbreaking for USI's new Fuquay Welcome Center. The center was made possible through the generous leadership gifts to Campaign USI: Elevating Excellence from longtime University friends Dan and Janet Fuquay and Old National Bank.
The Fuquay Welcome Center and Old National Bank Atrium will serve as the central point for convening all campus tours, as well as accommodating the more than 200,000 people who annually use the USI campus for activities other than academic classes. It also will allow the Student Ambassadors and Admissions staff to better demonstrate the opportunities available to students through the USI campus.
The $2 million 6,000 square-foot facility will be located on University Boulevard, adjacent to the Orr Center, and will feature an accessible green roof that will include walkways, patios and seating areas. The facility was designed by DKGR, LLC in Indianapolis, Indiana. The project is expected to take nine months to a year to complete.