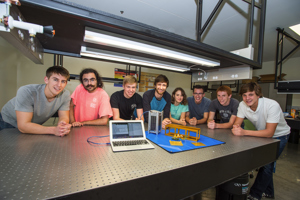 Engineering and physics students at the University of Southern Indiana have embarked on a mission-of-a-lifetime project designing the University's first spacecraft to be placed into orbit by NASA sometime in 2018. The unit is a CubeSat, a miniaturized satellite known as a U-class spacecraft.
The USI student-led project to design, build and then operate the CubeSat in orbit is funded by NASA's (National Aeronautics and Space Administration's) Undergraduate Student Instrument Project (USIP). USI's project was one of 47 national projects competitively selected and funded by NASA to give undergraduate students a hands-on experience developing and flying research or technology experiments relevant to NASA missions. Twenty three of the 47 projects involve CubeSats. 
"How often do you get to send something into space?" said Wyatt Helms, an engineering sophomore from Alfordsville, Indiana. "When I graduated high school, I wanted to go to school for aerospace engineering, but didn't get the scholarships I was able to get here at USI. Now, it turns out I'm doing the same things I wanted to be doing."
The USI CubeSat is known as the Undergraduate Nano Ionospheric Temperature Explorer (UNITE), and will target the least explored layer of the atmosphere, the lower ionosphere. While traveling through the ionosphere the UNITE CubeSat will probe plasma density, determine drag characteristics of the vehicle, and measure temperature on the skin and in the interior of the spacecraft. The satellite measures 10 cm x 10 cm x 30 cm and has a mass of just 4 kilograms.
To be able to work on a project of this magnitude at the undergraduate level is something the entire team is excited about. "I'm working on the command and data handling, one of the subsystems we're going to provide," said Colin Runnion, an engineering junior from Evansville. "I get to be part of a team that will basically design the command and data handling systems from the ground up. It will be one of the more critical parts, and one of the parts most likely to fail. It's a lot of stress, since I haven't designed something this complicated, but I'm really looking forward to that. Hopefully, if all goes well, someday, I'll find myself working at a job at NASA."
"We're approaching this project with both exhilaration and trepidation," said Dr. Glen Kissel, associate professor of engineering and project faculty mentor. "Exhilaration, because our students have been given this exciting opportunity to place the University's first spacecraft into orbit, but also trepidation, knowing there are potential setbacks every step of the way."
NASA requires that the USI team deliver a flight-ready CubeSat by early March 2018, with a launch expected sometime later that year. Launch services will be provided by NASA at no charge to the team. CubeSats are generally ejected from a rocket as a secondary payload, once the orbit has been achieved for the much larger primary payload. Alternatively, CubeSats can be sent to the International Space Station and loaded by astronauts into a deployer for ejection into orbit.
Jose Fregozo, an engineering and physics major from Evansville, is charged with monitoring the drag analysis and other key functions of the craft. Taking theory and putting it into practice is something he's particularly excited about. "It combines both of my majors. I'm looking at things from a physics perspective, understanding the fundamental theories and getting to apply those things using my engineering know how."
The USI team is still evaluating what orbits would be acceptable for its mission, in preparation for making a formal request to NASA later in the year for a rocket ride into space. Depending on the orbit NASA places the CubeSat in, the UNITE mission could be as short as 40 days, or as long as 400 days, before it burns up in the atmosphere.
The team first met this semester to begin the design and to plan the remaining phases to complete the unit, then integrate, test and operate the CubeSat using NASA Systems Engineering principles. Because the project is a multi-year endeavor, the team will fluctuate as students graduate. Adam Will, an engineering junior from Evansville, will take over as team leader in spring 2017. "Being a longtime admirer of NASA and private space companies like SpaceX, it's exciting to be working on a satellite that's going into space here at USI at an undergraduate level," he said.
USI's UNITE CubeSat team includes:
Jose Fregozo, Engineering and Physics Senior, Evansville, IN
Wyatt Helms, Engineering Sophomore, Alfordsville, IN
Ryan Loehrlein, Engineering and Business Finance Sophomore, Evansville, IN
Haley McConnell, Biophysics and Math Senior, Evansville, IN
Kegan Miller, Engineering Senior, Frankfort, IN
Bryan Mitchell, Engineering Junior, Evansville, IN
Jonah Quirk, Physics Junior, Evansville, IN
Colin Runnion, Engineering Junior, Evansville, IN
John Siepierski, Outgoing Team Leader, Engineering Senior, Bradford, PA
Adam Will, Incoming Team Leader, Engineering Junior, Evansville, IN
Eric McCord, graduated from USI with a BS in Engineering in spring 2016 (He did preliminary design testing in spring 2016 in support of the CubeSat project.)
Dr. Eric Greenwood, assistant professor of physics, and Dr. Art Chlebowski, assistant professor of engineering, also will assist the UNITE CubeSat team.
USI's UNITE CubeSat project is funded through NASA's Undergraduate Student Instrument Project with administrative assistance from the Indiana Space Grant Consortium at Purdue University. Near Space Launch Inc. of Upland, Indiana, will be the primary vendor for the UNITE project components.