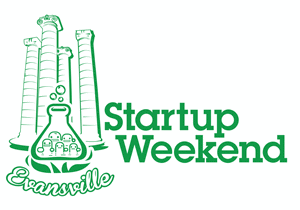 Startup Weekend Evansville 6.0 is coming to the University of Southern Indiana Business and Engineering Center February 17-19. Anyone, including USI faculty and staff, is welcome to pitch a startup idea and receive feedback from peers. If you have an entrepreneurial idea to pitch and want to find out if it has real potential, this is the weekend to do it! If you've ever thought of starting your own company Startup Weekend Evansville is the place for you. 
In just 54 hours, you will have the opportunity to develop your idea from the ground up. Startup Weekend 6.0 is a marathon weekend where developers, designers, marketers, product managers and startup enthusiasts come together to share ideas, form teams, build products and services, and launch startups. 
If you don't have a specific idea, but want to learn from the weekend event, you can organically join a team and assist in developing their idea. Startup Weekend Evansville allows you to take action on ideas you may have thought about for a long time, gives you 54 hours to learn, network and potentially launch a startup.
Free Tickets
Dr. Mohammed Khayum, dean of USI's Romain College of Business, is offering up to 12 free tickets to individuals who submit a brief description of their ideas to Bryan Bourdeau by 5 p.m. (CST) Monday, February 6. This is a first come, first served opportunity. 
Submit ideas in the following format:
What is the problem/pain you are addressing in the marketplace?
What is your idea/solution to address this problem/pain in the marketplace?
How will your idea/solution work to address the problem/pain in the marketplace?

If your idea is selected, you will be notified by Bryan Bourdeau and be invited to pitch your idea at Startup Weekend Evansville 6.0. If your idea is not selected, tickets are only $30 ($25 for students) for the entire weekend and includes materials, access to coaches, meals and idea development techniques.

Prize Package
The growing Startup Weekend 6.0 prize package includes:

For more information about Startup Weekend Evansville 6.0 and to get your tickets, visit Startup Weekend 6.0 online.  
Ready your ideas!