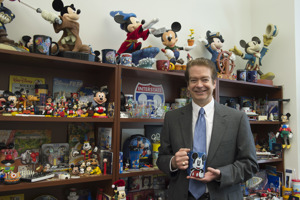 Walking into Dr. Brian McGuire's office is like entering a Disney museum. Multiple shelves are packed with Disney figures, like his lunchbox from first grade, marionettes, books and collectibles from around the world, including Spain, Singapore, Germany and Italy. Large statuettes of Mickey Mouse and other popular characters stand atop bookcases. His walls are lined with large framed puzzles and albums.
McGuire, professor of accounting, and director of accounting programs, has made a powerful impact on the accounting profession and on higher education. He has served on numerous national and global boards, including the Institute of Certified Management Accountants, International Accounting Standards Board, Institute of Management Accountants and IMA Research Foundation, among others. He also has served as a member of the Accounting Accreditation Committee and a consultant evaluator, specialized reviewer and eligibility panel member for the Higher Learning Commission.
Think an accountant's life is boring? Let's find out more about the adventurous life of this well-traveled accountant. (View images of his travels.)
What's a common stereotype about your academic field that you would like to debunk?
People think of accountants as boring. I used to have an office that was all text books and there were plaques all over the wall. I guess that was more typical of what you'd expect of an accounting professor, a boring office. I originally just had a few Disney items and when people would walk in to my office that would be the one thing they always commented on, not my degrees or certifications, but my Disney collection. So I just started adding to it and this is what it became.
It's easy to stereotype, but accountants aren't all boring. I've been to 32 countries and 49 states, I still have Vermont to check off my list. I once rode across the Arabian Desert on a camel. I've been on an African safari. I once flew 35,000 miles in two days from Singapore to Evansville, then from Evansville to Beijing. I love art. I've been to the Louvre, the British Gallery and the Metropolitan Museum.
Accountants really do lead interesting lives. People just think we sit in a cubicle crunching numbers and that's really not the way it is. So get the word out. We're interesting people.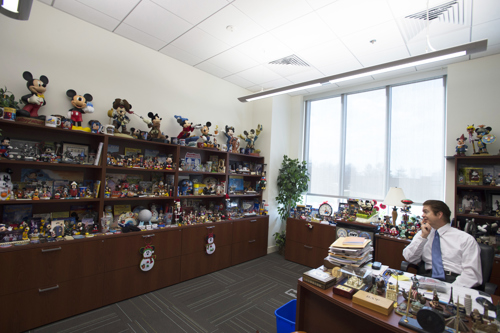 Tell me about all the Disney collectibles in your office.
I like to tell people I went to Disney World a couple years ago and I enjoyed it so I bought some souvenirs. We used to live in Orlando and my wife worked for the Walt Disney Company, so on weekends we'd go to the theme park. As my kids got older, they encouraged me to start collecting stuff. It's become a family tradition to go to Disney World every New Year's.
I would eventually like to visit every Disney location. I've probably been to the parks over 100 times.
Where did you grow up?
I grew up in Birmingham, Alabama. But we would spend three months on Dolphin Island. We'd go from Memorial Day to Labor Day. We could walk up to the shrimp boats and buy our dinner off the boats.
How and why did you choose to work and live in Evansville?
I primarily came to Evansville because of the University. A lot of schools say they're student-centered, but USI really is. I was impressed with the leadership of the University and felt the school had a good focus and good mission.
I first visited USI in February of 1995 and it was a warm winter. I was walking across campus in just my suit jacket. I didn't even need an overcoat. I asked if it was always this warm on campus. The tour guide jokingly said, "Yeah. This is a typical day." The following winter we had around 30 inches of snow. I'd go to work and my wife would spend the day putting everything back in cardboard boxes. I'd come home and unpack it and we'd do it again the next day. But we're still here. She's gotten used to it.
What is your favorite restaurant in town and why?
The Edgewater Grille because it's on the water. I like the views of the river and the sunsets are so pretty. It reminds me of being on the Gulf Coast.
What places do you get energy from?

I get energy from my family and friends and being around them. We have a beach house in Florida. We go there during Christmas and there's something neat about being on the Gulf Coast in the middle of winter. Our white Christmas is sand instead of snow. A couple of Christmases ago I was standing out on our wharf looking at the water and suddenly a dolphin pops up four or five feet away. You expect to see that at Sea World, not in your backyard.
What is your philosophy towards your work?
I'll borrow a Ford Motor Company slogan that "Quality is job one." Whatever you do in life, whether it's at work or elsewhere, you want to emphasize quality.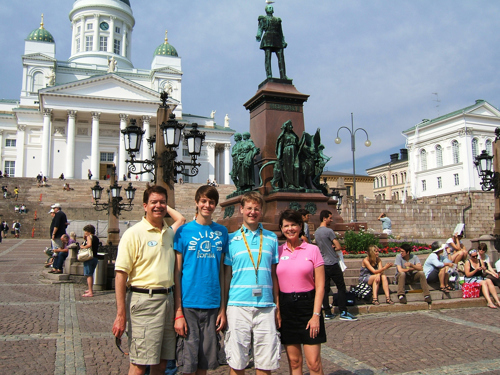 What is one thing you wish you knew when you were younger?

Spend more time with your family and friends. I lost my mom over Christmas several years ago and my dad a year ago. When you're younger you take your family for granted. In a job like higher education there's always something you could be doing, so it's easy for your job to consume you and you end up not spending time with your parents, your kids or your friends. Don't take people or opportunities for granted. When you have the opportunity to spend time with people, do it and don't think about what you ought to be doing.

What magazine do you look for when you are stuck in the waiting room?
The first thing that came to mind was Highlights, but my kids are older now. I still like looking for the hidden pictures. Probably Time or Fortune because I like to stay on top of current events. So much of what's going on in the world affects the U.S., Indiana, Evansville and ultimately USI.
What is a skill you'd like to learn and why?
I would learn some foreign languages. I never dreamed when I was in high school or college I'd end up going to 32 countries.