University of Southern Indiana Outreach and Engagement will host its third annual Celebration of Engagement from 3 to 5 p.m. Thursday, March 16 in University Center East on the USI campus. The event will feature talks by University officials and a keynote address from Amy Word-Smith, CEO of Lamasco and Dapper Pig and founder of the Franklin Street Events Association. 
"As the community began to 'fall in love with Franklin', I had to learn how to have meaningful engagement that was sustainable, permanent and kept the community moving an entire cultural district forward," said Word-Smith. "This will be a 'How to Engage Community' keynote for practical and everyday solutions to finding your place to engage and activate in your community."
Guests are encouraged to stay for an interactive engagement fair on the second floor of the Performance Center lobby. Included in the engagement fair will be networking, refreshments and the opportunity to learn more about how they can engage with USI.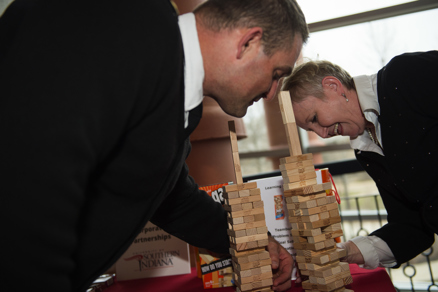 ​Major Christopher Dalrymple and Charmaine McDowell engaging at the 2016 Celebration of Engagement fair
Full agenda for the Celebration of Engagement:
3:00 p.m. – Welcome and remarks from Dr. Linda L. M. Bennett, USI President
3:10 p.m. - Impact of USI Outreach in the Community; Dr. Mark Bernhard, Associate Provost, USI Outreach and Engagement
3:20 p.m. - Keynote Speaker, Amy Word-Smith
3:50 p.m. - Presentation of the Dr. Edward M. Jones Engagement Award
4:00 p.m. - Interactive Engagement Fair
The Celebration of Engagement is free and open to the public, and will highlight the University's rich history of community engagement, which is also evident in the University's Community Engagement Classification by the Carnegie Foundation.
To learn more and to register for this free event, visit USI.edu/Celebration.