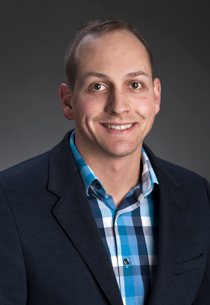 The University of Southern Indiana will hold a Commencement ceremony for undergraduate students in the College of Nursing and Health Professions at noon Saturday, April 29 in the Physical Activities Center (PAC) on the USI campus.
Joshua F. Bowman '09 is the 2017 Commencement speaker for the College of Nursing and Health Professions. He is the health facility administrator with Bethel Manor and an adjunct instructor in the College of Nursing and Health Professions at the University of Southern Indiana. He earned a bachelor's degree in health services and administration from USI in 2009.
In his current role at Bethel Manor, Bowman's work focuses on patient and family satisfaction, as well as employee retention. His efforts to increase facility admissions and referrals have proven successful with 183 percent and 93 percent increases respectively in the last four years, and the facility achieved Medicare 5 Star status in 2016.
Prior to joining Bethel Manor, Bowman was the residence director and administrator for Shields House Assisted Living in Seymour, Indiana, and director of admissions at North Park Nursing Center in Evansville. He is licensed by the State of Indiana as a health facility administrator, and is a nationally certified nursing home administrator. As an adjunct instructor at USI, Bowman uses his experiences to teach courses in health facility administration and age-related health changes. He has been an instructor since 2014.
Bowman serves on the advisory board for Southwestern Indiana Regional Council on Aging (SWIRCA) and the USI College of Nursing and Health Professions, and is a board member for LeadingAge Indiana and Southwest Indiana Workforce Development. He is a co-founder and co-facilitator for Southwestern Indiana Collaborative for Performance Improvement, a collaboration of nursing home facilities and other stakeholders in southwestern Indiana to complete quality improvement projects.
Guests of graduates participating in the College of Nursing and Health Professions ceremony will need tickets. A reception for the graduates and their friends and families will follow the ceremony and will be held in University Center East.
Three other colleges at USI will conduct ceremonies on April 29 according to this schedule:
Pott College of Science, Engineering, and Education, 9 a.m.
Romain College of Business and Outreach and Engagement, 3 p.m.
College of Liberal Arts, 6 p.m.
A commencement ceremony for graduate students will be held at 6:30 p.m. on Friday, April 28 in the PAC.
Live video of each ceremony will be streamed in University Center East Conference Center (Rooms 2217-2220). The ceremonies also may be viewed online at USI.edu/live-stream.