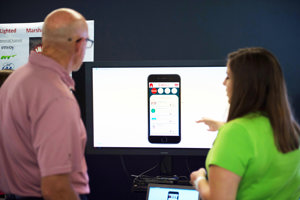 The University of Southern Indiana's Center for Applied Research (CAR) has collaborated with Pacific Press Technologies to develop a mobile application for the company's customers. A presentation unveiling the app will be held at 3:30 p.m. on Thursday, April 20 in the University Suite, University Center West. This event is free and open to the public and light refreshments will be served.
The purpose of the app is to be able to easily calculate tensile strength for various metals. A team of students from USI's Romain College of Business (Brian Combs, Justin Hopkins, Mitchell Powers,and Samantha Whitmore) led by Dr. Gongjun Yan, assistant professor of computer science and Dr. Dinko Bacic, assistant professor of computer information systems, has been working diligently since January to complete the project. The first draft of the app is finished and has been shared with Pacific Press. After final revisions are made, it will be available for Android devices with the potential for iOS compatibility in the future.
Chris Robinson, sales manager of Pacific Press, originally contacted CAR regarding a 3D print project produced in the Applied Engineering Center. Following that, Pacific Press shared the need for a custom mobile application based on a spreadsheet available on their website. Students were able to develop this vital resource for Pacific Press and their customers.
"An extremely useful tool for our customers just got easier to use with the help of USI's team," said Robinson, who has collaborated with CAR on prior projects.
Pacific Press Technologies, located in Mt. Carmel, Illinois, designs hydraulic presses, press breaks and shears to help drastically reduce mechanic downtime. All of their machinery is made in the U.S. and their business has been improving brake technology for more than 70 years.
For more information on the Center for Applied Research, visit USI.edu/CAR.