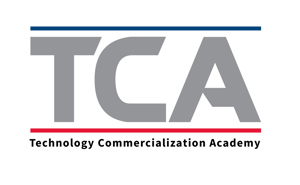 The University of Southern Indiana's annual Technology Commercialization Academy (TCA) is scheduled to kick off on May 8, and conclude with student presentations on July 28. TCA is a 12-week program that gives students the opportunity to work with local companies who are seeking new ventures. Students will gain experience in technology commercialization as well as marketing, communication and problem solving. Sixty applications were received from all majors and 16 students were selected.
While TCA is an ever-evolving program, the mission is to develop skilled leaders with the desire to discover opportunities and put ideas into action. The core of the program focuses on a rapid assessment using the Design Thinking method, which focuses on five phases: discover, define, ideate, prototype and test.
"TCA participants gain skills that allow them to bring innovation to any profession," said Jason Salstrom, technology commercialization manager. "They are exposed to area businesses and entrepreneurs, and simultaneously drive value for those businesses by assisting them with exploration and validation of opportunities."
During the program, students are expected to show initiative, use evidence-based decision making and show professional accountability. Graduates of the program also have the opportunity to continue working on their ideas with the Eagle Innovation Accelerator or at USI's Applied Engineering Center during the academic year.
The 2017 TCA class includes:
Corey Foster, Boonville, Indiana
Danielle VanHooser, Boonville, Indiana
Colin Hogan, Evansville, Indiana
Brian Jessen, Evansville, Indiana
Kennedy Moore, Evansville, Indiana
Conner Schafer, Evansville, Indiana
Abigail Stanley, Evansville, Indiana
Dana Tang, Evansville, Indiana
Gage White, Evansville, Indiana
William Eddings, Henderson, Kentucky
Joseph Acchiardo, Newburgh, Indiana
Shelby Gilliam, Newburgh, Indiana
Caleb Kauk, Newburgh, Indiana
Brittany Kessler, Owensville, Indiana
Kolten Turner, Owensville, Indiana
Olivia Wilde, Racine, Wisconsin
For more information on USI's Technology Commercialization Academy, visit USI.edu/TCA.