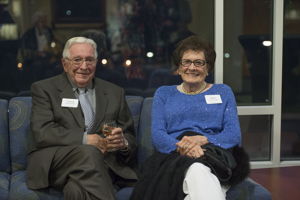 The University of Southern Indiana is renowned for its beauty. It's in a constant state of growth and change as new programs are introduced and buildings are renovated or added. It's difficult to imagine the University not being here. However the rolling grounds, bursting with colorful flowers and bustling students, wouldn't be here if it weren't for a few individuals who doggedly fought to bring an affordable higher education institution to Evansville.
One of those individuals was Rolland Eckels who served more than 40 years as a member of Southern Indiana Higher Education Inc. (SIHE), 10 years of which he served as president. In 1967 SIHE began a fund drive to purchase 1,400 acres of land to house a university. The community's hunger for higher education was apparent, as donations flooded in and surpassed the initial goal of $750,000, and eventually topping $1 million.
Eckels led further efforts to draw more students to the University by raising funds for campus apartments. Later, he was a determined presence at the State Legislature, lobbying for independence for the University, which at the time was a regional campus of Indiana State University. "He was a commendable force at the State Legislature who fought tirelessly for USI," said Cindy Brinker, vice president for Government and University Relations. The perseverance of Eckels and other champions of the University paid off in 1985 when USI gained its independence.
Through the efforts of Eckels and other SIHE members, a University was born that is entrenched in the history of Evansville and continues to serve the community. The roots of USI, which were firmly planted in Evansville, now extend to the far ends of the globe.
Eckels' dedication to USI was unwavering. He and his wife, Phyllis were longtime members of the President's Associates and also established the Rolland M. and Phyllis J. Eckels Scholarship Endowment. He received the University's highest honor in 1976, the conferral of an honorary Doctor of Laws degree. In 2008 he received the Suzanne A. Nicholson Leadership Award from USI's Foundation.
"Rolland was a "founding father" of USI and certainly was one of its greatest champions," said David Bower, vice president for Development and president of the USI Foundation. "Rolland devoted his life to making Evansville a better place. The single biggest impact he has made on the community was his work to bring a public higher education institution to Evansville."
Eckels passed away on July 1, and though we are saddened by the loss, his legacy continues as the seed he helped plant years ago for an Evansville university continues to blossom, bear fruit and feed a hunger for knowledge. He lives on through those who continue to persevere and fight to make USI better. "If there was a Mount Rushmore for USI, Rolland would be there," said Kevin Hammet '90, chair of the Foundation Board of Directors.