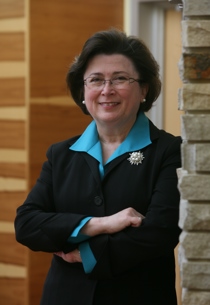 After nine years as president and 15 with the University of Southern Indiana in total, Dr. Linda L. M. Bennett has announced plans to retire effective June 30, 2018.
"I am profoundly grateful for the opportunity to serve this great institution," said Bennett. "The essential strengths of USI are not contained in buildings, though our beautiful campus is a tremendous asset. Those essential strengths are the people of the campus, the power of community and the high quality education our students take with them as they graduate. This December I will be 65, and with that milestone, I believe it is a good time to think about the next chapter of my life. The University of Southern Indiana is well-positioned for a transition, and this is the right time."
The USI Board of Trustees will announce plans this fall for a national search for USI's next president.
"It has been my good fortune to have worked with each of the three presidents of this University, all have exemplified outstanding qualities necessary to captain a ship such as ours," remarked Harold Calloway, chair of USI's Board of Trustees. "Dr. Bennett, without exception, has proven to be a transformative leader who was the right person at the right time for our institution, and we will certainly miss her intellect, caring personality, wit, and love and respect for the institution. The Board of Trustees will work to select a leader that will continue the legacy of Dr. Bennett and all of her predecessors."
Bennett became USI's third president in July 2009, after serving as USI's provost and vice president for Academic Affairs from 2003 until her inauguration. In addition to serving as president, she is a professor of political science and has taught courses in Introduction to American Politics for USI students.
In her first year as president, she led the effort to establish the University's first strategic plan. This plan included an intentional effort to raise the University's academic standards, admitting students most likely to succeed at a four-year university.
In the area of academic programming, she coordinated the self-study, which led to the approval of USI's first doctoral program—Doctor of Nursing Practice—by the Higher Learning Commission. She also oversaw the expansion of the Bachelor of Science in engineering degree program with the addition of Manufacturing Engineering and Mechanical Engineering. The manufacturing engineering degree was the first of its kind in the state and one of only around 20 such programs in the country. Additionally, the Master of Business Administration (MBA) has recently expanded to be available both on campus and in an entirely online format with areas of concentration that include accounting, data analytics, engineering management, healthcare administration and human resource management.
During her tenure, the University continued to see monumental growth with the addition of numerous building projects, including the Business and Engineering Center, Performance Center, Lenny and Anne Dowhie Ceramics Center, Applied Engineering Center, Griffin Center, renovation of the University Center and the USI-Burdette Trail, as well as the start of construction on the Physical Activities Center expansion and renovation, and the Fuquay Welcome Center.
In 2015, she launched the University's second strategic plan, which will continue through 2020. Also under Bennett's leadership, enhanced admission processes have been implemented and the University's brand and image have seen updates and increased visibility across the region. Additionally, the USI Foundation led a successful Campaign USI: Elevating Excellence, a $50 million capital campaign that exceeded its goal at its conclusion in 2016.
During her time as president, Bennett has led initiatives at USI focused on enrollment and retention management, outreach and engagement, faculty development, the retention of intellectual capital, accreditation renewal, and long-range planning.
In the broader higher education community, she has served with the American Association of Colleges and Universities (AASCU), the national organization representing public institutions, as an advocate for qualitative and quantitative comparisons of campus environments and degree-granting practices nationwide. She has been an evaluator for regional accreditation of institutions and a voice for accreditation standards nationwide. She is a leader of the NCAA Division II Great Lakes Valley Conference Council of Presidents, past chair of the Indiana Campus Compact Board and has been a member of the Coalition of Urban and Metropolitan Universities Executive Committee. Bennett has been a strong advocate in strengthening the relationship with Crane Division, Naval Surface Warfare Center (NSWC Crane) in support of nationally recognized best practice in technology transfer from the Department of Defense.
An active civic leader, Bennett has contributed to a variety of organizations such as Joshua Academy, Holly's House, Aurora, Leadership Evansville, the Diversity Lecture Series, Southwest Indiana Network for Education, Southwest Indiana Chamber of Commerce, United Way, Mesker Park Zoo Planning Committee, Indiana University School of Medicine Advisory Council, Chair of the WNIN Public Broadcasting Board of Directors, Deaconess Health Systems Board of Directors, the Red Cross, the Evansville Philharmonic Orchestra, director of the Welborn Baptist Foundation, the Economic Development Coalition of Southwest Indiana, the Mayor's Education Roundtable and the Rotary Club of Evansville. She was recognized as the 2015 Rotary Civic Award winner. In 2016, she received the Indiana Commission for Women Torchbearer Award and Trailblazer Award and in 2017 the Boy Scouts of America Buffalo Trace Council Distinguished Citizen Award.
Bennett is a native of Cincinnati, Ohio. She earned her bachelor's, master's and doctoral degrees in political science from the University of Cincinnati. She came to USI from Appalachian State University in Boone, North Carolina, where she served from 1999-2003 as dean of the College of Arts and Sciences and professor of political science. At Appalachian State, she established a college-wide Diversity Committee to develop strategies for faculty recruitment and retention. She also led the College of Arts and Sciences Advancement Council in statewide friend-and fund-raising efforts, including a capital campaign that raised more than $5 million.

Additional experience in higher education includes Bennett's service at two other universities. From 1996-99, she was chair of the Department of Political Science and professor of political science at Northern Kentucky University. From 1983-96, she was associated with Wittenberg University. She chaired the Department of Political Science from 1994-96 and rose to the rank of professor in 1996. 
Bennett plans to remain in Evansville with her husband, Stephen, and stay actively involved in community service.