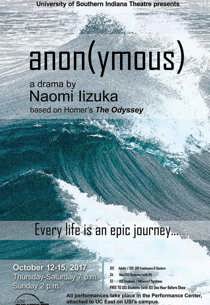 University of Southern Indiana Theatre will open its 2017-18 season with the play Anon(ymous), written by Naomi Iizuka. The production runs October 12-15 in the USI Performance Center located in University Center East on USI's campus.
Directed by Eric Altheide, associate professor of theatre, Anon(ymous) tells the story of a young refugee called Anon.  While he searches for his mother, he journeys through the United States, encountering a wide variety of people -- some kind, some cruel and dangerous.  Anon must travel through a chaotic, ever-changing landscape to find his family in this timely, socially relevant adaptation of Homer's Odyssey.
Altheide will be joined by a design team including USI faculty member Paul Weimer as scenic designer; USI staff member Kevin Gray as sound designer; USI staff member Maya Fein as lighting designer; USI staff member Andy Hammond as technical designer; and USI students John Merritt as costume designer and Ashleigh Dulik as production stage manager.
The cast of Anon(ymous) includes USI students Jason Merslich, Jesmelia Williams, Jada Hampton, Nathaniel Robles, Brittni Garcia, Gabriella Rivera, Zoie Hunter, Drake Delap, Allen Harbold, Megan Lee, D'Angelo Himes, Hadin Hart, Tamarea Kramer, Chloe Oakes, Aaron Nulton, Kennedy King, Jason Honesto, Gela Ackerman, and Talia Crist.
Tickets are $2 for USI students, $12 for USI employees, $4 for non-USI students (student ID required), $13 seniors (60+), and $15 for adults. Shows start at 7:00 p.m. Thursday through Saturday and 2 p.m. for the Sunday matinee. To purchase tickets or for more information visit USI.edu/Theatre or call the box office at 812-465-1668. Follow us on Facebook at USITheatre and NewHarmonyTheatre, Twitter @TheatreUSI, and Instagram @USI_theatre for updates and photos.
Tickets are also now on sale for the rest of the 2017-18 season. Join us for Our Town, the 2017 Repertory Project co-produced by USI Theatre and New Harmony, from November 16-19. Our Town will feature professional Equity actors and returning guest director Ron Himes.  Spring shows include Italian American Reconciliation, directed by Elliot Wasserman from February 15-18, 2018, and the beloved musical Into the Woods, directed by Altheide from April 19-22, 2018. For more information on the remainder of the USI Theatre season visit USI.edu/liberal-arts/usi-theatre or call 812-465-1668.
Anon(ymous) contains fog effects.