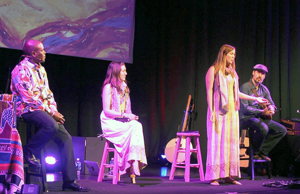 Internationally acclaimed longevity expert Dr. Bill Thomas returns to USI on Monday, November 6 with his ChangingAging Tour, featuring two theatrical events to be held in the USI Performance Center. Blending myth and science, live music and visuals, Dr. Thomas and his team are barnstorming the country in a rock n' roll tour bus to bring communities a new and highly disruptive understanding of aging. 
Our culture tells us that aging will change us against our will, and for the worse. But, Dr. Thomas, who was the keynote speaker at USI's 10th annual Mid-America Institute on Aging and Wellness this summer, argues that this is a misconception. The tour features two non-fiction theater events: Disrupt Dementia (2:30 - 4 p.m.) and Aging: Life's Most Dangerous Game (7 - 8:30 p.m.), both featuring original music, storytelling, poetry and groundbreaking insights into human aging. 
"USI is honored to host Dr. Bill Thomas and his tour group," said Dr. Ann White, dean of USI's College of Nursing and Health Professions. "No matter what your age, these performances will inspire, energize and connect generations as we look at aging across the lifespan." 
In between the two shows, there will be an interactive "Lobby Experience" in the lobby of the USI Performance Center, featuring vendor tables and community partners, a book signing, plus a photo booth and entertainment. 
Lobby Experience Schedule:
4:00 - 4:20 p.m. - SWIRCA Kitchen Band Performs
4:30 - 4:50 p.m. - Tai Chi Demonstration
5:00 - 5:20 p.m. - USI Student Vocalist Performs
5:30 - 5:50 p.m. - Dancing with Evansville River City Bop Club
6:00 - 6:20 p.m. - Drum Circle 
Available for the entirety of the Lobby Experience (4-7 p.m.):
Local artist Tina Gibbs demonstrating MnemeTherapy, a "directed painting" process helpful for those living with Alzheimer's disease or other brain change.
Experience Virtual Reality for Stress Relief with Dr. Gabriela Mustata Wilson, chair of USI's new Health Informatics and Information Management program.
Meet and greet with cast members, including Samite of Musicians for World Harmony.  
Special pricing is available for USI faculty and staff. Members of our "USI network" are eligible for a 25 percent discount when purchasing tickets online. At checkout, enter discount code: USIGUEST and click "Apply Coupon" to receive 25 percent off the regular ticket price. USI students are free with the code EAGLESTUDENT. 
Anyone requiring disability-related accommodations should contact Mary Scheller at 812-228-5123 or mtscheller@usi.edu. Requests should be made as early as possible to ensure accommodations are available. 
Additional information about Dr. Bill Thomas and the ChangingAging Tour is available online.