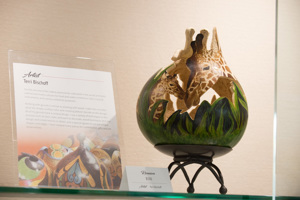 If you've been searching for a gift for that person who has everything, or you'd just like to treat yourself with something unique, take a peek at what's in the display window at the USI Campus Store. Items on display include handmade soaps, jewelry, art prints, watches and even hand-painted gourds. Artists include Emily Gartner '84, Jenna (Citrus) Rueger '15, Sara K. Rhoades '06 and Terri Bischoff, director of Creative and Print Services.
Here are a few of the items available for sale in the USI Campus Store.
Emily Gartner '84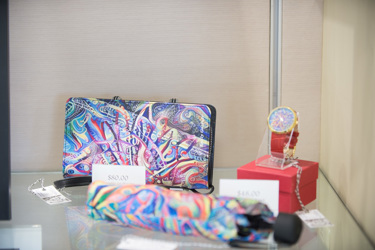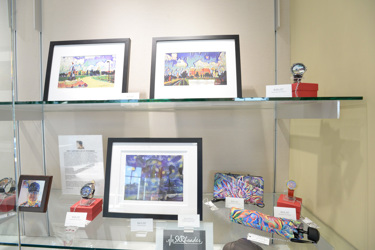 "The community where I live is very important to me and this is why I loved working with Indiana landmarks and now, I'm excited to be collaborating with my alma mater, USI. My art begins with digital photography, which then gets transferred onto a variety of different surfaces."
Gartner offers a variety of bright, colorful products including umbrellas, watches, art prints and pocketbooks.
Terri Bischoff, director of Creative and Print Services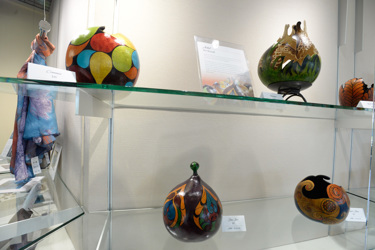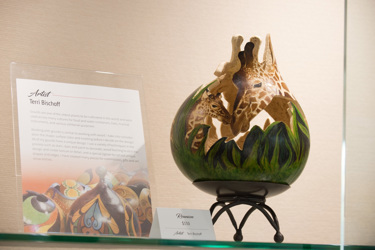 "Gourds are one of the oldest plants to be cultivated in the world and were used across many cultures for food and water containers; hats; musical instruments and various utilitarian purposes. Working with gourds is similar to working with wood. I take into consideration the shape, surface color and mottling before I decide on the design. I use a variety of techniques in the process such as stain, dyes and paint to decorate, wood burning to etch the design and create texture or detail, and a special jigsaw to cut out unique shapes and edges."
Jenna (Citrus) Rueger '15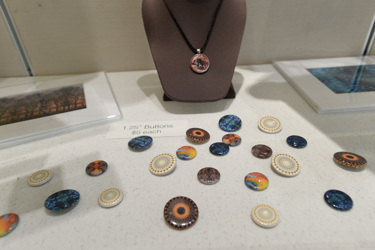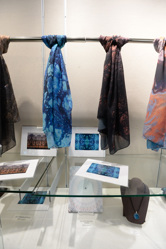 "I develop my work by combining fine art, photography and design. I believe that art shouldn't be static and should extend beyond its typical boundaries. By integrating design, I'm able to push the boundary of fine art into the world of design."
Rueger's display includes scarves, buttons, art prints, jewelry and t-shirts.
Sara Rhoades '06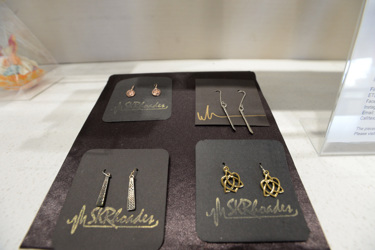 "I started to make jewelry while working on my bachelor's degree at USI. I love using open forms to tell my story; minimalism with a little whimsy and a rugged edge; silver, pearls and leather; and innovation."
Rhoades offers both handmade jewelry, as well as elaborate soaps (see below) that look good enough to eat.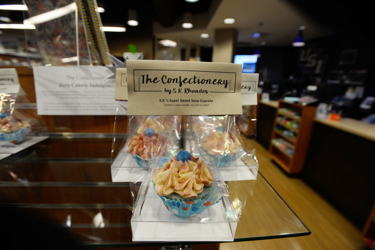 "Who doesn't love a little zero calorie indulgence in their lives? As a baker, maker and artist, I take great pride in the treats I make for my family and dear ones. I've always thought the act of making, with love, to be essential to life."