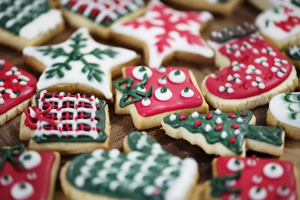 Ginger Molasses Thins
from Kristina Groves, adjunct professor in communications
1 1/4 cups all-purpose flour
1 1/2 teaspoons ground ginger
1/2 teaspoon salt
1/2 teaspoon baking soda
1/2 teaspoon ground cinnamon
1/8 teaspoon ground cloves
1/2 cup (1 stick) butter, softened
1/2 cup packed brown sugar 
1/4 cup granulated sugar
1 egg
2 Tablespoons molasses
1 teaspoon vanilla extract
Coarse white decorating sugar
Preheat oven to 350 degrees. Lightly grease cookie sheets. Combine flour, ginger, salt, baking soda, cinnamon and cloves in a medium bowl. Beat butter, brown sugar and granulated sugar in a large bowl with an electric mixer until light and fluffy. Add the egg, molasses and vanilla; beat until well blended. Add flour mixture; beat until well blended. Shape tablespoonfuls of dough into balls. Roll balls in decorating sugar; place two inches apart on prepared cookie sheets. Bake about 10 minutes or until set. Cool on cookie sheets one minute, then remove to wire racks to cool completely. Makes about 2 1/2 dozen cookies
Butterscotch Blondies
from Terri Bischoff, director of Creative and Print Services
1 cup vegetable oil
1 1/2 cups granulated sugar
1 teaspoon vanilla
2 eggs
2 ½ cups of flour
3/4 teaspoon baking soda
1 teaspoon salt
2 cups butterscotch chips
Mix 1 cup vegetable oil, 1 1/2 cup granulated sugar until blended; beat in 1 teaspoon vanilla and 2 eggs.
Whisk 2 1/2 cups flour, 3/4 teaspoon baking soda and 1 teaspoon salt, then stir into the sugar mixture. Add 2 cups butterscotch chips and chill 30 minutes. Roll into balls and bake 8 to 12 minutes at 350 degrees.
Nancy's Baklava
from Ginny Bryant, assistant director of Development
1 lb unsalted butter
1 lb finely chopped nuts – walnuts or pecans
1 tsp. cinnamon
1/2 tsp ground cloves
1 lb filo sheets
Combine nuts in large bowl with spices. Melt butter. Cut pastry sheets to fit the largest shallow baking dish you have. Using a pastry brush, brush the bottom of pan with butter. Brush 1 sheet of butter and put in pan. Repeat until four sheets are in the pan. Sprinkle lightly with the nut mixture then add 3 filo sheets buttered Sprinkle with nut mixture. Repeat until all mixture is used. Top with four sheets of buttered filo. Cut into diamond shapes. It cuts better if it is a little chilled. Bake  at 325 degrees. It should never be more than golden brown.
While it's baking prepare syrup
2 cups sugar
1 cup water
1 teaspoon lemon juice
1/4 cup honey
Combine sugar and water until sugar is dissolved. Cool and pour over warm baklava. Keep some back and pour over 10 minutes later.
Seven-layer Bars
from Susan Schmitt, library assistant/technical services
1 1/2 cups graham cracker crumbs
1/2 cup melted butter
1 (14 oz) can Eagle Brand sweetened condensed milk
1 cup semi-sweet chocolate chips
1 cup butterscotch-flavored chips
1 1/3 cup flaked coconut
1 cup chopped nuts
Preheat oven to 350 degree (325 for glass.) In small bowl combine graham cracker crumbs and melted butter. Mix well. Press crumb mixture firmly on bottom of 13 x 9 pan. Pour sweetened condensed milk evenly over crumb mixture. Layer evenly with remaining ingredients. Press down firmly with a fork. Bake 25 minutes or until lightly browned. Cool. Cut into bars or diamonds. Store covered at room temperature.
Fudgy Bon Bons
from Susan Todd, senior administrative associate, Enrollment Management
1 (12-oz.) package (2 cups) semisweet chocolate chips
1/4 cup margarine or butter
1 (14-oz.) can sweetened condensed milk
2 cups all-purpose or unbleached flour
1/2 cup finely chopped nuts, if desired
1 teaspoon vanilla
60 Hershey's Hugs chocolate kisses (white crème and chocolate kisses)  
2 oz. white chocolate baking bar or vanilla-flavored candy coating (almond bark)
1 teaspoon shortening or oil
Heat oven to 350 degrees. In medium saucepan, combine chocolate chips and margarine; cook and stir over very low heat until chips are melted and smooth. (Mixture will be stiff.) Add condensed milk; mix well. Lightly spoon flour into measuring cup; level off. In large bowl, combine flour, nuts, chocolate mixture and vanilla; mix well. Shape 1 tablespoon dough (use measuring spoon) around each milk chocolate candy, covering completely. Place 1 inch apart on ungreased cookie sheets. Bake at 350 degrees for 6 to 8 minutes. Do not overbake. Cookies will be soft and appear shiny but will become firm as they cool. Remove from cookie sheets. Cool 15 minutes or until completely cooled. Meanwhile, in small saucepan, combine baking bar and shortening; cook and stir over low heat until melted and smooth. Drizzle over cooled cookies. Let stand until set. Store in tightly covered container.
Coconut Macaroons
from Angie O'Nan, USI Today editor/administrative associate, University Communications

2/3 cup all-purpose flour
5 1/2 cups flaked coconut
1/4 teaspoon salt
1 (14 ounce) can sweetened condensed milk
2 teaspoons vanilla extract
Preheat oven to 350 degrees. Line cookie sheets with parchment paper. In a large bowl, stir together the flour, coconut and salt. Stir in the sweetened condensed milk and vanilla using your hands until well blended. Use an ice cream scoop to drop dough onto the prepared cookie sheets. Cookies should be about golf ball size. Bake for 12 to 15 minutes in the preheated oven, until coconut is toasted.
Peppermint Mocha Cookies
from Laura Everest, senior graphic designer, Creative and Print Services
Make sure you chill the cookie dough for at least 3 hours. The longer, the better! Chilling helps the flavors develop, prevent spreading, and makes the otherwise sticky cookie dough easy to handle.
1/2 cup unsalted butter, softened to room temperature
1/2 cup granulated sugar
1/2 cup packed light or dark brown sugar
1 large egg, at room temperature
1 teaspoon pure vanilla extract
1 teaspoon peppermint extract
1 cup all-purpose flour (spoon and leveled)
1/2 cup plus 2 tablespoons unsweetened natural cocoa powder
1 teaspoon baking soda
2 teaspoons espresso powder or 1 tablespoon instant coffee granules
1/8 teaspoon salt
1 cup mini or regular size semi-sweet chocolate chips
8 ounces white chocolate, coarsely chopped
3 large candy canes, crushed
In a large bowl using a hand-held mixer or stand mixer fitted with a paddle attachment, beat the butter for one minute on medium speed until completely smooth and creamy. Add the granulated sugar and brown sugar and beat on medium high speed until fluffy and light in color. Beat in egg, vanilla and peppermint extracts on high speed. Scrape down the sides and bottom of the bowl as needed.

In a separate bowl, whisk the flour, cocoa powder, baking soda, espresso powder and salt together until combined. On low speed, slowly mix into the wet ingredients until combined. The cookie dough will be quite thick. Switch to high speed and beat in the chocolate chips. The cookie dough will be sticky. Cover dough tightly with aluminum foil or plastic wrap and chill for at least three hours and up to three days. Chilling is mandatory for this cookie dough. I always chill mine overnight.

Remove cookie dough from the refrigerator and allow to sit at room temperature for 20 minutes-- if the cookie dough chilled longer than 3 hours, let it sit at room temperature for about 30 minutes. This makes the cookie dough easier to scoop and roll. Preheat oven to 350 degrees. Line two large baking sheets with parchment paper or silicone baking mats. (Always recommended for cookies.) Set aside.

Scoop and roll balls of dough, about 1 1/2 Tablespoons of dough each, into balls and place on the baking sheets. Bake the cookies for 8-9 minutes. Be sure to rotate the pan once during bake time.
The baked cookies will look extremely soft in the centers when you remove them from the oven. Allow to cool for 5 minutes on the cookie sheet. They will slightly deflate as you let them cool. Transfer to cooling rack to cool completely.

Melt the chopped white chocolate in a double boiler or use the microwave. For the microwave, place the white chocolate in a medium heat-proof bowl. Melt in 15 second increments, stirring after each increment until completely melted and smooth. Dip each completely cooled cookie halfway into the white chocolate and place onto a parchment or silicone baking mat-lined baking sheet. Sprinkle crushed candy canes on top of the chocolate. Repeat with the rest of the cooled cookies. Place the baking sheet into the refrigerator to help the chocolate set. Once set, enjoy!
Black Bean Chocolate Chunk Brownies
from Mary Scheller, communications associate, College of Nursing and Health Professions

This recipe is from the Blue Zones website. "Blue Zones" are places that have the greatest life expectancy and where more people reach age 100 than anywhere else in the world. Dan Buettner spoke of his longevity research in the Blue Zones during the 2015 Mid-America Institute on Aging and Wellness.
In the "Blue Zones," sweets are consumed as a celebratory food and only sparingly. Dan and his team recommend healthy treats like these brownies because they are lower in refined sugar and grains, and the black beans provide protein, complex carbs and antioxidants. Find more dessert ideas at https://bluezones.com/recipe_type/dessert/
15 oz black beans drained and rinsed
2 whole bananas
1/3 cup unsweetened cocoa (and/or cacao powder)
1/3 cup agave nectar
1/2 cup dry oats
1/2 cup dairy-free chocolate chips
1/2 cup almond butter or whatever nut butter you prefer
1 tsp vanilla extract
Preheat oven to 350 degrees Fahrenheit. Grease an 8×8 pan and set aside. (Recommend greasing with Coconut Oil Spray.) Combine all ingredients except for the oats and chocolate chips and blend in a high-speed blender or food processor. Pour into a bowl and mix in the oats and chocolate chips.
Pour into the pan and bake for 30 minutes or until you can stick a toothpick through. Let cool before serving.