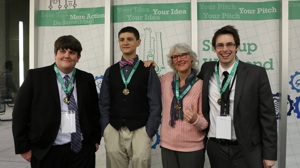 The team behind the Carrier Pigeon drone idea was awarded first place at Startup Weekend Evansville 7.0 (SWE) on Sunday, April 8. SWE is a 54-hour event in which developers, designers, marketers, product managers, and startup enthusiasts come together to share ideas, form teams, build products and launch startups. More than 100 individuals, including students, coaches, and judges, participated in this year's sold-out event, held in the University of Southern Indiana Business and Engineering Center.
The idea behind Carrier Pigeon is that a hospital or pharmacy can dispatch emergency medical supplies via drones to ambulances transporting patients to the hospital. Not all medical supplies are feasible to keep stocked in ambulances because of cost and product degradability, yet patients are dying en route to the hospital without them. This lifesaving service allows emergency workers access to these supplies when needed, thereby treating patients much more quickly especially in emergency situations. USI senior economics major Jonathan Elfreich was a team member.
As the first place team, Carrier Pigeon receives an impressive package to further develop their idea:
Startup Weekend Evansville 7.0 gold medals
1 year of secure website hosting and $500 of software services from Lieberman Technologies
Exclusive interview podcast from Evansville Podcast
6-month membership to The Station Co-working Space from GAGE
Consulting services from Focal Point
Taking second place was team Buffer Baby. Their wearable product replaces traditional burp rags to protect parent's clothing when feeding their baby. USI junior management major Jeziel Martinez was part of this team.
As the second place team, Buffer Baby receives:
Startup Weekend Evansville 7.0 silver medals
6-month membership to The Station Co-working Space from GAGE
Consulting services from Focal Point
Third place was awarded to Every River. This environmental product traps pollutants in streams and tributaries before they enter rivers and eventually oceans. Already in place in Baltimore, Maryland, this team wants to partner with other groups to bring this solution to Evansville because the Ohio River is one of the most highly contaminated rivers.
As the third place team, Every River receives:
Startup Weekend Evansville 7.0 bronze medals
6-month membership to The Station Co-working Space from GAGE
Consulting services from Focal Point
Other ideas that made it to the final pitches included:
Shair: ride sharing solution for college students
Digi-Leap: training modules to bring digital literacy to the world
Re Fresh: local and organic produce delivered in containers made of recycled materials
WalkIn: web-based application sharing program
World's First Wheelchair Fan: portable air circulation that attaches to a wheelchair
CrimeCast: uses data analytics to predict crime spots
Babyonboarding: decreases the risk of late enrollment of newborn infants on the parent's health insurance policy, an issue that is overlooked and undervalued
Judges included Josh McWilliams, USI Technology Commercialization Coordinator; Ellen Horan, President of Growth Alliance of Evansville; Jennifer Lehman, Product Launch Manager at eLuxury; Dan Hendrickson, Director of Marketing and Business Development at Peoples Trust & Savings Bank; Zac Parsons, Consultant/Entrepreneur 
Evansville Mayor Lloyd Winnecke kicked off Startup Weekend by encouraging entrepreneurs not to give up on their idea. The keynote speaker for the weekend was Erin Bemis, a Google representative who presented "Get Your Business Online."
SWE 7.0 was sponsored by the University of Southern Indiana's Romain College of Business, Vectren Foundation, Lieberman Technologies, Growth Alliance for Greater Evansville, Focal Point, River City Video, Acropolis Restaurant & Catering, and Bauerhaus Catering. In-kind sponsorships included Evansville Tech-on-Tap and Evansville Podcast.
 "Moving into our seventh year, SWE remains the largest event of its kind in Indiana serving over 25 counties and neighboring states," said Bryan Bourdeau, event co-founder, co-organizer and USI instructor in business and entrepreneurship. "SWE provides experiential education, networking, mentorship, coaching and immersion for USI students, faculty and regional participants. With more than 700 attendees and participants over the past seven years, SWE has become a prominent Southwestern Indiana innovation hub within our entrepreneurial ecosystem."
Founded in 2007, Startup Weekend is billed as "the world's largest community of passionate entrepreneurs," with events held in cities throughout the world. In its seventh year, Startup Weekend Evansville is the largest event of its kind in Indiana.