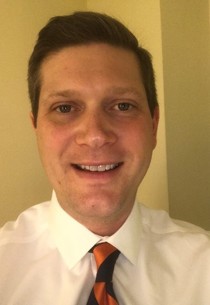 Chad Horrell '04, director for Washington D.C.-based DCI Group, will present "'See' of Opportunities: Navigate with Purpose" as part of the 2018 University of Southern Indiana's Political Science and Public Administration Department Alumni in Residence program. Horrell's presentation will begin at 10 a.m. Wednesday, April 11, in Kleymeyer Hall located on the lower level of the USI Liberal Arts Center. The program is free and open to the public. 
Horrell's talk will include the valuable application and use of political science degrees in Indiana and across the nation, as well as the importance of identifying goals and striving every day to achieve those goals. Additionally, he will also discuss how his own USI education poised him for a career in the nation's capital, and engage with students and other attendees with questions and discussion.
"USI is an important institution in Southern Indiana and continues to demonstrate strength in both academics and athletics," said Horrell. "The University remains an important part of my life and family. It is a great honor to present as part of the Alumni in Residence program and communicate the impact the USI education had on my life experiences,"
Horrell has over 10 years of experience managing presidential, senatorial, gubernatorial and congressional political campaigns. Prior to joining DCI Group in 2014, Chad spent three years working in AARP's headquarters developing and implementing far-reaching advocacy campaigns on a variety of issues, including energy, Medicare, and Social Security. In his current role, he manages multi-faceted issue advocacy campaigns focused on federal and state legislative affairs.
An Evansville native, Horrell earned a bachelor's degree in political science from USI. While a student, he played on the USI Men's Golf team and earned two consecutive Academic All-GLVC honors. He is part of an alumni-legacy family, member of the USI Varsity Club and an avid USI basketball fan. Horrell serves on the Board of Advisors for PoliticalBank LLC, a platform to train candidates running for political office, and is a volunteer coach for The First Tee of Greater Washington, D.C., where he helps youth build character through the game of golf. He resides in Alexandria, Virginia with his wife, Abby, and two-year-old son, Daniel. 
For more information, contact Dr. Oana Armeanu, chair of the Political Science and Public Administration Department, at 812-464-1722 or oiarmeanu@usi.edu.