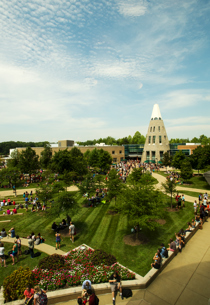 Registration is now open for a variety of camps offered this summer through the University of Southern Indiana. The camps each have a different focus, and range from engineering and other STEM-related themes to sports and general enrichment. Here is a sampling of the offerings available for summer 2018. Visit USI.edu/summer for the full listing of camps and registration information.
Summer Enrichment Camp (SECamp)
USI's Summer Enrichment Camp is an all-day camp taking place in the lower level of the Rice Library. The camp includes many enrichment activities designed to promote educational, physical and social/emotional growth like swimming, field trips and experiences like science, art, cooking and more. Children may enroll full-time, or if space allows, part-time for the entire summer. Limited spaces are available and priority is given to USI families. This camp takes place May 29 - July 27 from 7 a.m. to 5:30 p.m. Weekly tuition for non-USI employees is $145.
Girls Only (GO) STEM! Summer Camp
The sixth annual Girls Only (GO) STEM! summer camp allows high school girls to explore science, technology, engineering and mathematics (STEM) fields. GO STEM! will be held from June 24-26. Activities that will be included in this experiences are:  coding, engineering, 3D printing, healthcare, advanced manufacturing, e-textiles, and panel discussions involving female undergraduate STEM majors and STEM professionals. Campers can also look forward to rock-climbing at USI's new indoor climbing facility, hiking the picturesque USI-Burdette Trails, and growing accustomed to college life in one of USI's many residence halls.  Female STEM majors will be on hand all week to mentor campers, giving each camper the opportunity to build a lasting and valuable support network. GO STEM! is open to girls in grades 9-12. The cost of the camp is $175. Applications are available until the camp is full at www.swistem.org.
Go Viral Camp
EVSC Southern Indiana Career and Technical Center and Southwest Indiana AHEC are offering a one-week summer camp to explore disease outbreaks, basic epidemiology, disease tracking, integration of public health with medical care and the variety of careers in public health. The camp is open to current 7th and 8th graders in Gibson, Posey, Spencer, Vanderburgh and Warrick counties. Registration is open with a fee of $20 (non-refundable, payable at time of camp).
Engineering & Manufacturing Creativity Camp (EMC2)
The Engineering and Manufacturing Creativity Camp (EMC2) on the University of Southern Indiana campus is a day camp made possible by the Southwest Indiana STEM Resource Center and the University of Southern Indiana Engineering Department. It will give you a chance to learn what engineers do, through a series of exciting on campus activities and field trip to a local manufacturer. This camp takes place July 9-13 from 9 a.m. to 4 p.m. Registration is now open with a fee of $150 and is open to incoming 9-12th graders (must be entering these grades during the 2018-19 academic year).
Sports Camps
USI is also offering sports camps for various age groups and skill levels in baseball, basketball, volleyball and soccer. The camps take place throughout June and July, and vary from one-day camps to weeklong camps.
Lifelong Learning Youth Programs
USI Outreach and Engagement will host several youth-oriented classes throughout the summer for students ranging from 6th grade through high school. Topics include reading skills, personal finance, and verbal and math skills for the SAT.