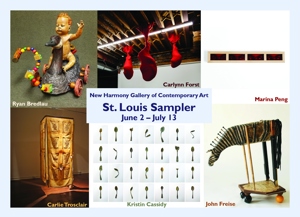 The New Harmony Gallery of Contemporary Art's newest exhibition, St. Louis Sampler, will be on display Saturday, June 2 through Friday, July 13. The exhibition is free and open to the public. An opening reception will be held from 4 to 6 p.m. June 2 at the gallery, during the 2018 Arts in Harmony Festival.
"The exhibition is not meant to be an exhaustive representation of the St. Louis scene," said Garry Holstein, director. "Rather, it is meant to be a small sample of the culturally vibrant community."
From a pool of talented artists, six from St. Louis, Missouri were selected for the exhibition, including Ryan Bredlau, Kristin Cassidy, John Freise, Carlynn Forst, Carlie Trosclair and Marina Peng. The artists' work creates an aesthetic and conceptual dialogue within the space.
This exhibition is part of an outreach series meant to drive connectivity within the region by highlighting nearby cultural scenes. The work will feature a diverse array of materials and techniques including ceramics, found-object sculpture, installations and rust prints and photography.
This exhibition is possible through the generous support of the Efroymson Family Fund, the Indiana Arts Commission and the National Endowment for the Arts.
The New Harmony Gallery of Contemporary Art is an outreach partner of the University of Southern Indiana. The gallery is located at 506 Main Street in New Harmony, Indiana. Regular hours are 10 a.m. to 5 p.m. Tuesday through Saturday and noon to 4 p.m. Sunday. For more information, contact Garry Holstein at 812-682-3156 or go to USI.edu/nhgallery.