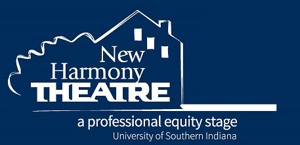 New Harmony Theatre announces an exciting summer of theatre with productions of Born Yesterday, Nunsense and Talley's Folly. Tickets for all shows, including season tickets, are on sale now.
Born Yesterday
The 2018 season will open with Born Yesterday by Garson Kanin, running June 22-24 and June 28-July 1. The show is directed by Elliot Wasserman, producing artistic director and chair of Performing Arts at the University of Southern Indiana.
Born Yesterday opened on Broadway in 1946, and Kanin's smart comedy writing makes it a classic. Billie Dawn, showgirl and "fiancé" of corrupt businessman Harry Brock, who brings Billie along with him to Washington while he pursues his business of bribing congressmen to secure favorable contracts. Embarrassed by her ignorance despite her "arm candy" appeal, Harry arranges for Billie to be tutored by newspaperman Paul Varrel. Soon, everyone will discover that even if Billie Dawn lacked a little schooling, she was never dumb. Billie proves herself a quick study and soon this comic showgirl turns the world upside down! Throw in a little romance, and you have the perfect stage comedy.
The show stars Matthew DeCapua, Chamblee Ferguson, Ron Himes, Linda Kennedy, Michael McKenzie, Allen Rickman, Christianne Tisdale, and Kristin Wetherington. USI students Aaron Nulton, Gabriella Rivera, and Nathaniel Robles will also take part in this production.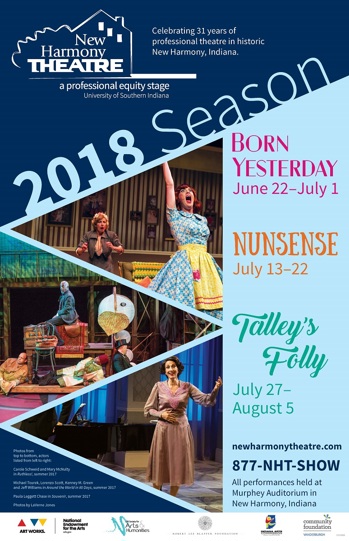 Nunsense
Nunsense, with book, music and lyrics by Dan Goggin, runs July 13-15 and 19-22, and is directed by Elliot Wasserman.
The second longest running Off-Broadway show in history, the five wacky Little Sisters of Hoboken have entertained audiences for years by using their talents to raise a bit of the cash necessary to hold funerals for those in their order who have succumbed to eating some bad vichyssoise. Don't let the note of tragedy fool you; this musical is a hoot and a half! The Mother Superior is an ex-circus performer who craves the spotlight, and her little company of performers sing and dance in habits while steering a careful course between the irreverent and the madcap.
The cast for Nunsense includes Lydia Dawson, Noreen Eddy, Marlaina Powell, Laura Stracko, and local talent Sue Schriber. Nunsense will feature choreography by Robin Levine and musical direction by Patrick Ritsch.
Talley's Folly
The season will close with the 1980 Pulitzer Prize for Drama recipient, Lanford Wilson's Talley's Folly, July 27-29 and August 2-5, directed by Eric Altheide, New Harmony Theatre's resident associate director and associate professor of theatre at USI.
It is July 4, 1944, and 42-year old Matt Friedman, has shown up unannounced and certainly uninvited to press his suit to marry 31-year old Sally Talley, the daughter of a conservative Protestant family. Since meeting her a year earlier, he has written her every day, even though she has only answered a single letter. As a Lithuanian born Jew, Matt's very existence is a victory over the 20th century's worst events toward him and his family. His love for Sally represents a renewal of his hope for a better world. Sally's origins are quite the opposite; despite a privileged upbringing, she has suffered her own disappointments and tragedy. Between them, there is a chance for what has eluded them well into adulthood, love and fulfillment. This is a one-act play that begins with Matt telling the audience that 97 minutes will determine everything, and what follows are 97 unforgettable minutes between these two very special characters.
Talley's Folly stars Drew Hirschfield and Jenny Piersol.
Tickets
Tickets are on sale now, and season tickets may be purchased through the first production. All evening performances start at 7:30 p.m. and matinees begin at 2 p.m. Individual adult tickets are $30 for Born Yesterday and Talley's Folly and $35 for Nunsense. Discounted tickets are available for students, seniors, and groups. Season tickets are $72 for adults, $66 for seniors (60 and over) and $30 for those age 25 and younger. All performances take place at the historic Murphy Auditorium, 419 Tavern Street in New Harmony, Indiana.
The New Harmony Theatre is a professional Equity theatre produced by USI and is the Tri-state's only professional Equity theatre. For more information or purchase tickets, go to newharmonytheatre.com or call the box office at 812-682-3115 or toll-free at 877-NHT-SHOW. For updates, visit NHT on Facebook at Facebook.com/NewHarmonyTheatre.