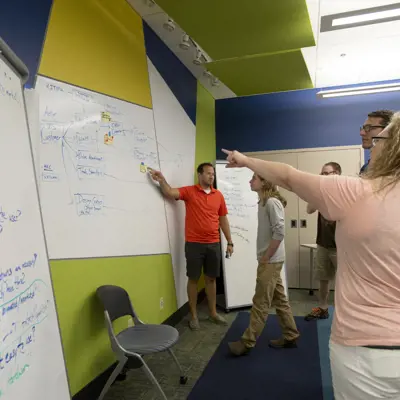 USI announces 2018 Technology Commercialization Academy class
Work set to begin with NSWC Crane on May 21
The University of Southern Indiana's Technology Commercialization Academy (TCA), an award-winning opportunity for USI students, will begin Monday, May 21 and continue through Friday, August 10. Throughout the 12-week process, participants will identify and develop commercial opportunities generated from Naval Surface Warfare Center, Crane Division (NSWC Crane) intellectual property. Students will have an opportunity to maximize their impact on southwest Indiana through the valuable skillset they acquire throughout the program.
NSWC Crane is a naval laboratory and a field activity of Naval Sea Systems Command (NAVSEA) with focus areas in Expeditionary Warfare, Strategic Missions and Electronic Warfare. NSWC Crane is responsible for multi-domain, multi-spectral, full life cycle support of technologies and systems enhancing capability to today's warfighter. USI's partnership with NSWC Crane exists to benefit USI students, faculty and the regional community through technology transfer, commercialization and employment opportunities.
"Over the years, the program has evolved and changed, and this year is no exception. We are excited to return to our roots of opportunity exploration by leveraging our great partnership with NSWC Crane." said Josh McWilliams, program coordinator.
Students will explore the transfer of military-developed technologies to businesses, especially in southwest Indiana. Working closely with McWilliams and other USI faculty, students will conduct all three phases of the program, including skill development, the entrepreneurial mindset and practical application.
TCA, a Lilly-funded program, recruits USI talent from all majors. The 16 students, their majors and hometowns, selected for the 2018 TCA include:
Jon Buttebrodt, Mechanical Engineering, St. Louis, Missouri
Callie Cessna, Social Work, Lawrenceville, Illinois
Collin Culiver, Theatre Performance, Newburgh, Indiana
Ethan Ellinger, Finance and Economics, Lexington, Indiana
Elizabeth Gardner, Mathematics, Lafayette, Indiana
Ian Graves, Engineering, Indianapolis, Indiana
Evan Johnson, Electrical and Industrial Engineering, Evansville, Indiana
Stephen Kauk, Computer Science, Newburgh, Indiana
Joshua Knecht, English, Corydon, Kentucky
Chris Osburn, Mechatronics, Newburgh, Indiana
Andrew Robertson, Electrical Engineering, Evansville, Indiana
Nolan Snyder, Mechanical Engineering, Champaign, Illinois
Jordyn Verville, (International) Business Administration, Evansville, Indiana
Andrew Vest, Philosophy, Evansville, Indiana
Blake Watson, Public Relations and Advertising, Evansville, Indiana
Christopher Weaver, Marketing, Newburgh, Indiana
"Students will work in teams to develop the best ideas generated during the ideation process and which have survived the customer validation and feasibility steps," said McWilliams. "Each team will present their potential product as well as an overview of their assessment of the opportunity."
Work days for students are typically Monday through Thursday, 9 a.m. to 3:30 p.m. for a total of 24 hours per week. On Friday, August 10, students will pitch their final products and ideas to the community. A similar event will be held at a later date at NSWC Crane.
With success, students will demonstrate initiative, evidence-based decision making, multidisciplinary collaboration and professional accountability.
Companies seeking support to assess or launch new ventures or individuals who are subject matter experts interested in engaging with Eagle Innovation should contact Josh McWilliams at jdmcwilla@usi.edu or visit USI.edu/TCA for more information.
By Delaney Somers, USI Opportunity Development Communications Intern